You are currently browsing the category archive for the 'Delaware builders' category.
If you are like me traveling through this interchange is exciting since with every commute, and nightly lane closure, something new and different has been erected.
It has gotten hard with all the complexity, to visualize just where each bridge and ramp will lead…
Hope this helps… It does make one proud of Delaware, … "where roads get thought out first….."
Five bills, HR 3-7 were laid on the table by Briggs-King.
Number 3 This bill prohibits certain ticket scalping for musical concert events at the Delaware State Fair
Number 4 AN ACT TO REINCORPORATE THE TOWN OF GEORGETOWN.
Number 5 An act to water down the state's low emission vehicle program.
Number 6 Excessively raises the ceiling thresholds below which Prevailing Wage Laws DO NOT APPLY.
Number 7 Allows contracting agencies to opt out of the requirement that prevailing wages be paid to mechanics and laborers performing work on public works projects.
These 5 bills if successful, will create huge changes that will disrupt Delaware's economy in a big way. Obviously someone is positioning themselves to ingratiate themselves to Greg Lavelle's former political contribution list.

Photo Courtesy of www.oldwilmington.net
It is a question of degree.. Who has the more authority within the current moment. A brand new administrator elected by the choice of the people over his predecessor, or…. a plan put in place and carried out by a previous administration.
Bottom line. There are no rules here. Depending on which side you seem to be on… will affect your outlook. The decision is both right and wrong for either side, depending upon which criteria one will use to decide.
Examine the first.
An Administrator is elected. He comes in and takes over his office. One of the planks he ran on was to reverse a certain act of his predecessor. When the people had a choice of electing a person who was for the proposal in question, and one who was against it, they overwhelmingly went for the one who was against it….
Now the second.
An Administrator inherits a problem from his predecessor. He applies considerable effort to get a deal made and moved forward. It goes through all proper channels. It is legalized by a vote on Council. It is the Council and thereby the County's official policy. A schedule has been drawn up. Funding approved. It is in effect, in the middle of being completed…. Since it was set in stone before the new administrator comes in, he has no right to interfere…..
Can a chief executive overrule a previous Council's decision? Well. Romney certainly was going to with Obamacare.
Congress had passed it, the Supreme Court had legitimized it, and Romney was going to make it obsolete with the stroke of a pen, based solely on the argument that it was the wish of a mandate of the voters putting him into office.
If it would work for the president, it must also be effective and allowed, under the new New Castle County Chief Executive.
It therefore, is not only legal, but ethical, contrary to the opinion of one certain Danberg who resigned in protest as county attorney on Wednesday.
A leadership role demands that a leader leads. For a leader to have to swallow every poisoned pill his predecessor were to leave him, puts not only him, but his department and the province he oversees…. at risk. That would be harmful to all society, if something was locked in stone by every outgoing administration…. Were that the true will of the people of New Castle County, to have Barley Mill Plaza go forward, then Paul Clark would now be the executive, not Tom Gordan…
Either way the decision goes, someone gets hurt. If the decision is to go forward, then those residents around that area who are the victims of a fabricated traffic study, are doomed to suffer. If the decision is to be stayed, and reworked pending a new traffic study, then those who have invested into the plan, are the ones doomed to suffer.
So someone has to get hurt! The question is …. who?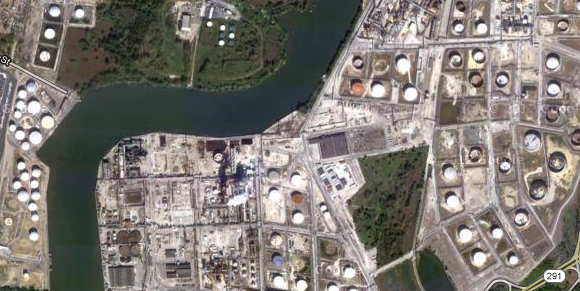 Photo courtesy of Google Maps/ Lower Schuylkill
Kinder Morgan is a pipeline company. It is the fourth largest energy company in America, behind Exxon-Mobile, Chevron, and Conaco-Phillips. Though it was spun off from Enron, a point of contention which many opponents point to, it was started by those who saw to where Enron was headed and jumped the ship in port before Enron began its fateful run. In fact, it employs the whistle blower who reportedly sank Enron. So get that comparison out of the way. KinderMorgan is not Enron. It IS the fourth largest energy business in America.
Which shows how little we really know about it. For Kinder Morgan likens themselves to a toll road. No matter whether the price of gas goes up. or the price of gas goes down, as long as it gets transported by the fourth largest energy company, it makes money. Kinder Morgan transports energy.
Which is why it wants to come to Wilmington.
Big company. Little state. Equals coercion.
Today, most people have no idea what the Dupont reference means in the title. That is amazing and really shows how far things have come in thirty years… Without exaggerating too much, it would be safe to say, Dupont owned Delaware's government, and got anything it wanted. For that privilege, mind you, they loved us and bestowed upon us many gifts, including our double laned highway stretching from Delmar to Philadelphia Pike… now named the Dupont Highway… In all honesty, one of the things that makes Wilmington such a great city, and makes Delaware one of the best states, is the generosity of Dupont bestowed upon this state with the second smallest landmass.
It came with a price. Our toxic waste dumps. Our cancer rates. Our brownfields. These were bought by Dupont's gifts to those running our state. Vote to allow Dupont to dump toxic chemicals on a piece of land and get a museum as a bonus. Really how can anyone say no?
38 years later, no one remembers the museum, except that their school may have went there on a field trip. And that is hard to even remember while busing mom to her radiation treatment center, and taking the kids to AI Dupont for their bone marrow transplants… And with all the Advil you have to take to keep the throbbing bearable in your own head, it is a miracle that you even remember anything..
Choices have consequences. Every marriage has its cost.
It becomes a moral issue, now. Should Delaware divorce the marriage made to its high school sweetheart, the one with a long high school and college courtship? The one both families have gotten used to? The one spawning four children? The one supporting a church, a PTA, the Food Bank, the fight against diabetes, with volunteer effort, because a new suitor just happened to notice you and wants to play?
A big name like Lindsey Lohan wants to marry Delaware. She will bring a lot to the table. The question is, just as if the suitor were Lindsey Lohan, the benefit is very short term. The cost, will be on-going for the rest of our lives…. Is there a chance that such a marriage will work? There is always a chance…… but .. nope. Not in this case.
There will be a Kinder Morgan port with liquefaction plant somewhere on the east coast. It can either be in the Delaware Bay or the Chesapeake Bay. There is so much gas being found in the Marcellus Shale region of Pennsylvania right now, estimates of a massive 100 years worth, that to get a higher price for it one has to go overseas. Europe is starving for gas. Russia keeps turning their supply on and off.
Someone will need a gas port on America's east coast and the cheapest spot is between north of the C&D Canal, and Philadelphia….
A pipeline from the terminal at Coatesville to Wilmington is rather cheap, and with minor adjustments, LNG (Liquid Natural Gas) ships docking in Wilmington will soon carry their explosive cargo to Rotterdam, Hamburg, and Sagunto, Spain. ..
This construction will be done with non-union labor brought up from Texas. Existing contractors with whom Kinder Morgan are familiar. Costs per mile, payment plans are already locked down. Gradually Southbridge with the help of Delaware's General Assembly and the blessings of the next generation of chief executives, will be bulldozed and turned into the next Marcus Hook.
It is inevitable. Europe's lifestream will flow through Delaware. Shipping is not as dependable as are pipelines and storage is a key component… Fill the tanks when the price is low; sell the contents when the price is high.
The Christina Riverfront, will resemble the lower Schuylkill delta. Across the river from the riverwalk, storage tanks will stretch as far as the eye can see……
This deal, that of giving away our port, WILL CHANGE DELAWARE FOREVER…. and it is being done in secret. No community involvement. All hush hush. False innuendos being given instead of details…
Are the details not as bad as the hype? Well, whenever that scenario occurs, details usually are leaked out for the very reason the are used TO SWAY OVER the public… Since they aren't leaking, someone is trying to present a fait accompli.
Speculation is always rampant when there is silence. The best way to combat irresponsible speculation is to release the actual details. Let people know what to expect before the deal is done. Just perhaps, their objections may open your eyes to a possibility previously unconsidered, that could, if found out too late, wreak havoc with our daily lives!
Otherwise Delaware, expect to be greeted early one morning with this… : Kids? I kicked out your Mom last night… I want you to meet your new Mom… Her name is Lindsey. Lindsey Lohan… Everything is going to be just great from here on out!"
"yeeeaaaaoooowww"
Delaware's most expensive race this season, has gotten catty.  Meow…  Republican Greg Lavelle in typical Republican fashion started  and attacked Democrat Mike Katz for missing committee meetings…   In typical Republican fashion, the charge went like this…. "You're a no good, two timing, scheming, lazy, and unfit for office, because you missed a few meetings this year!!! How can you even dare run for office when you missed meetings like that!"
It was quickly pointed out on the Rick Jensen show, that Greg Lavelle has missed quite a few meetings over his career too… Since it is a longer career, he's probably missed a lot more meetings… But charges like that are what one expects from Republicans, especially those in northern New Castle County… I can remember another one like that… I think his name was Clatworthy?  Am I right?  And another one who'd pull charges out of thin air…. I think the ran for Lt. Governor in 2008 and only got like 17% of the vote or something?
Delawareans don't like  bomb throwers…..  Don't take my word for it.   Just ask Janet C. Rzewnicki…..
The Ms Katz takes to the airwaves and levels the Lavelle campaign.  It is over.  She tells of how she got the call that Mike Katz  was about to die and so were his two girls, when the ski lift collapsed and they slammed into the ground.  She tells how the paramedic put the phone up to his lips, so they could say the last goodbyes…  And Greg Lavelle would use that, to blame Mike Katz for not showing up for meetings?
(Of course he would; how to do it is listed in page 3 of the Republican ethics manual.)
Greg, like the bully in trouble runs to Rick Jensen and says that he was talking about meetings in 2012, and the accident was in 2010.  He pulls out a stolen email from the Katz campaign that says Mike has worn out a pair of sneakers going door to door, campaigning since January.
(He also admitted it was common policy to have staffers present at the meetings and that most of the work can be done a lot more efficiently from home.  He does it himself quite often.)
Both were in WDEL's studio this past Friday.  Katz responded that he has ongoing medical concerns… (like a broken back) and sometimes, it is impossible to move.  As any chiropractor will tell anyone who thinks to ask, often the real pain comes  years later, as the cartilage settles and wears thinner…  Therapy takes a long time…
For those who live in the Fourth, here is the real deal… Dr. Katz has done more for your district than anyone in recent memory.  Prior to Katz, you had a prima-donna who was too busy pursuing Republican Party Rings, to take care of constituent needs.  Mike has done more.  Mike has fixed the Beaver Dam Road.  Mike has gotten things done…
On the other hand, Greg Lavelle has done very little.. Like the predecessor before Dr. Katz, he is more concerned with pursuing Republican rings, than he is in helping Delaware grow.  Although all knew there is no way it would pass, he still ( like every Republican) wastes everyone's time with his proposals for anti-woman legislation, his proposals for anti-marriage legislation,  proposals for gigantic, impossible-to-execute tax cuts for the top !% ( so he gets campaign funding from them in return); and bills meant to keep innocent people behind bars who have served their sentence, to stay even longer…..  Greg Lavelle is far more concerned about what ALEC seems to think, instead of the people of Delaware.
In fact, the running joke in Dover about Lavelle, is:  How do you know when Delaware's elections season starts?  ANSWER:  Greg Lavelle is featured  in the News Journal, screaming about something wrong with Delaware's prison system.. LOL.  I believe he wanted Danberg fired or something?  Danberg?  Really?  Of all people?  True to form, this September,  just after Labor Day…. he begins screaming… first to the News Journal, then to Rick Jensen… "We gotta do something; we gotta do something; outrageous; travesty." Yeah. yeah. yeah.
So residents in the Fourth.  Do you want a doer as you have in Mike Katz?  Or do you want a screamer, who has been doing it for 12 years… No track record until … Uh oh, it's election year…  Time to scream:  "Fire that guy".. (he has no power to fire or hire the replacement, he has no responsibility so screaming is his easy way out."…
It is time to definitely retire Greg Lavelle…  Listen to his voice.  Does his voice tones  sound like he is lying to you too?
Delaware does not need 2000 year Dick Cheney style politics clogging up our getting things done…  In fact: this democratic General Assembly has accomplished getting 900% more done than the previously two party divided General Assembly… A big part of that proficiency came from Dr. Katz…  Another part or that productivity was that as a Republican, Greg Lavelle was sidelined to where he could do very little damage….
There is no reason to hire Greg Lavelle, a person who is little more than a Copeland clone.  Dr. Katz has done much, much more.
In the next four years, Delaware will need to figure out where we go with Obamacare.  Without  a doctor like Dr. Katz in the General Assembly, we'd be making that foray into the future while..  blind…. 
This is one clear case of good versus bad.   We need the good now more than ever.
Due to the lunacy of Mitt Romney and Rick Santorum, discussion has shifted away from what is important…..
Jobs and how to bring more here…..
The answer is to increase taxes and give a deduction for physical capital built in the United States itself….
Raising taxes on the wealthy, but letting them keep some of it for themselves if they invest in building something here in America, will grow jobs….
Cutting taxes will not grow jobs…
We've cut so far that record profits are being reaped….
If record profits are being reaped and we don't have new jobs being grown now, what makes you think that letting them keep even higher record profits will make the slightest bit of difference?
Silly people.
No.. penalizing excess wealth unless it is invested in new construction, is the only guarantee that the wealthy will do what they told us they would do if they could keep a little more of their money……
Invest in America…..
This is the only way we can grow ourselves out of where we are today.
builders breaking more ground on new residential projects in January
Initial claims for state unemployment benefits dropped 13,000 to a seasonally adjusted 348,000, the Labor Department said, the lowest level since March 2008.
Housing starts rose 1.5 percent to an annual rate of 699,000 units last month, beating economists' expectations for a 675,000-unit pace.
The dollar rose against the yen, and U.S. Treasuries prices rose modestly.

General Motors earned its largest profit ever in 2011, two years after it nearly collapsed into financial ruin. GM also said Thursday that its 47,500 blue-collar workers in the U.S. will get $7,000 profit-sharing checks in March. The checks are based on North American performance
What a terrible, terrible time to be a Republican……
They cost you too…
The drop in payroll tax from 6.2% to 4.2% results in a savings of about $1000 a year to every wage earner.
(If truth were widely known, that tax cut is actually a bad idea. It hemorrhages a dying social security fund, requiring the eventual death of the program or an expensive emergency last ditch surgery in the future.)
But it is hard not to give a $1000 present to every voter. Even if it only comes out as $19 dollars and change each week… But, still again, if your electric bill is $198 and you only have $189 in your account, that additional amount is, well, a lifesaver…..
But, Republicans in the House, even after Republicans in the Senate voted passage, overwhelmingly voted….. not to vote on the measure…
They didn't vote against it… THEY VOTED NOT TO VOTE ON IT……
(speculation is that they lacked the votes to keep it from passing)..
So, how does that relate to you?
House Republicans (read Tea Party) just voted NOT TO VOTE on whether or not you will be losing an extra $20 a month out of your next paycheck.
Imagine what this is doing to payroll clerks around the country?
Imagine what this is doing to family budgets around the country?
Imagine what this is doing to businesses who rely on consumer spending around the country?
Imagine what this is doing to businesses heavily involved in the financial sector, around this country?
So what would normally happen?
Normally a group that can't find agreement, acknowledges the sad fact, and long before the deadline, announces that they failed to reach agreement and that things would continue as they were on a temporary basis, to unfortunately allow for more time to solve differences.
But NOOOOOOOOOOOO, …. WE ARE STUCK WITH A TEA PARTY THAT FUCKS THINGS UP.
Instead, we have a vote not-to-vote, then get all sorts of very lame excuses from those who are delaying, none of which apply to the real problem that Social Security is doomed unless drastic action gets taken (higher rates, not lower), and we get nothing….
The tax cut will expire…
It is like sequestering a jury in a room, where everyone after much fact-covering argument has agreed to a judgment, except for one person who's been bought off. And nothing, nothing, logic, emotional appeal, bullying, snuggling up to, befriending, produces any change. And you go years, every working day, to the same court house, the same jury room, they same chair at the same table, hear the same arguments, hoping against all odds, that today, he will see the light and switch. You go the next day.
That is today's Congress. Held hostage by Tea Party Republicans who live in a dream world untouched by the reality of living under $185,000 a year. Like that bought-out juror, every day, they hold up progress with the unjustified belief that, if they wait long enough, the other 11 jurors will give up and sway over to the sole juror's way….
Two things can happen… 1) return to the public and announce a hung jury, and do a complete retrial.. or 2) sneak up to that one juror, put a gun to his head, say nothing, pull the trigger, clean up the mess, dispose of the body, then go out to the public and announce what the 11 of you have decided…..
One is the nice way, sanctioned to due process of law. The other is the American Way.
It's time to initiate the kavipsian policy of expression or what is otherwise known as "Show Us How You Really Feel"… Who knows? It could become the next great movement? The next time someone you know (or don't), says anything about how millionaires should keep their tax cuts and the poor should pay, nod your head in agreement, smile a little bit, then hit them as hard as you can in their mouth, I mean as hard as you can! Put them flat on the ground holding their jaw… Then loudly say, "Don't every talk that stupid way to me again!" Who knows, if 99% or all 303,930,000 would respond that way to our fellow congressional delegates, and the other 3.9 million of their like who advocate such madness, we might actually get the very progress we need, not because of intimidation, but because such policy is right….
For those who argue expression of violence is un-American, I'll remind them that tonight, is John Wayne Night on AMC: view it!… I argue that such action is VERY American and perhaps it has been the lack of such spontaneous expressions of frustration from working American people, that has caused the logjam where nothing gets done because of one holdout, who thinks he can sway the world to his opinion and face no consequences… ….
Practice now, by punching brick walls.
Why can't DC come together?
In Dover we have to come together…We have to get things done. Glad I'm not part of an environment where you get points for standing firm, and where agreement is considered a bad trait.
What impact does it have on you….
Two, both driving uncertainty.. The first is uncertainty with ones future budgets to know the impact of future federal funds incoming to your state…
The second is the impact on the business environment. Less people hiring because of Washington's uncertainty. Should they build, or hold tight… Need credible budget in Washington before that can be decided.
Focus needs to be on: Jobs, jobs, jobs, and we should continue payroll tax credit.
In Delaware we took on pensions… Got everyone to the table, said we don't want positions. Here is the math. We need results and we got it done….
Visit to Afghanistan…
30 hours spent there does not make me an expert, I went to see our national guard. While there, I went to hospital, where hours earlier a soldier was brought in without legs. It's sobering… Incredible, what price they are paying.
Their future? Its an impossible job, handing over control to illiterate Afghans. Most don't have literacy skills. Their leader said if the US went to war, he'd join Pakistan if that happened. How hard is it to turn over a country to that?
So should we be there?
So many complex issues, I'll defer to Bill Clinton who said it best; that after having been president, he'd have to say he'd support Obama because as president, he has access to tons more information than I ever could have. I'm at loss to say based on the little bit I know…
The troops are great. Their mission is simple: to get their buddy out safely.
As for Globalization; answer is to bring business to Delaware?
Globalization is here to stay. Astra Zenica, England, our steel mill: Russia. We have companies who's base is in Taiwan. Trying hard to export chickens all over the world… Around the world, a lot of economies are growing faster than our , so we should sell our products over there.
Delaware is pivot point. Dover AFB and death, and huge corporate entities in Delaware.
Delaware needs to be a fantastic place to do business.
7.9 Unemployment. Are policies working there?
Auto bailout right thing, absolutely. Part is to pound away at growing jobs and not get distracted by other issues.
Small business. what's in the way? High taxes, Tight regulation?…
Demand…

How do you drive demand?
State can't.. We need to look as a business would. Why would they want to move here? Same reason it turns out as most people.. Great schools, fair taxes, quality of life, higher education and connections between it and local companies ,and where government is extremely responsive.
Balance of less taxes, less regulations? with great schools.
If a Rick Perry plan took effect, one he says it would grow jobs… less taxes, less regulations, less lawsuits…. Globally there are lots of dead countries with Regulations just like that… Education is what starts businesses. That is the key.
Once Steve Jobs was asked what it would take to bring overseas jobs back to America, he replied he'd need around 30,000 engineers we didn't have….
We should staple green cards to overseas student's diplomas to keep them over here…