You are currently browsing the category archive for the 'Delaware Bloggers' category.
The educational department of the University of Delaware is ranked 31st in the nation... That is at least out of 5000 accredited teaching schools…
Not only that, they are 31st in the top ranked educational teacher training country in the entire world… Apparently there is no educational crises in America when it comes to teachers receiving top notch training.
Overall, the top 10 countries in rank order are the United States, Sweden, Switzerland, Canada, Denmark, Finland, the Netherlands, Australia, Singapore and the United Kingdom….
What just passed last Thursday in Delaware, now requires the University of Delaware, again now ranked 31st in the top educator nation in the world,
to be judged solely on how its teachers administer Common Core when they go out into the field…
Common Core?
Just how good is this Common Core we are talking about?
New Attack on Common Core From Pennsylvania Democrats

Common Core Standards attacked by Republicans
'Common Core' Standards Come Under Attack By Lucas Johnson, Associated Press
Nation at Risk Anniversary, Common Core Under Attack
Common Core State Standards Under Attack
The RNC's Attack on Common Standards
The War Against the Common Core

911: Common Core Under Attack
Rotten to the Core: Conservatives spearhead drive at RNC meeting to stop Common Core
Weingarten Calls For A Moratorium on the Implementation of the Common Core: A "Save Harmless" Year for Planning That Includes Parents, Teachers and Principals.
Washington Post: Common Core is in Trouble
Common Core Standards Facing Increased Opposition
Indiana Among States Acting to Oppose Common Core Standards
Lisa Nielsen: Is the Common Core an Attack on Progressive Education?
Common Core: Education Without Representation
The Common Core: The Good, the Bad, the Possible
Your Children Need a Néw Brain for Common Core
Kentuckians Against Common Core Standards
Toynbee Predicted Privatization
One would think someone in Legislative Hall would have at least looked into Common Core before mandating that the 31st best teaching institution in the best ranked nation for turning out good teachers, would have to be judged on its effectiveness by the results of a program everyone is having so much trouble with.
Progressives are against it. Tea Party Advocates are against it. Democrats are against it. Republicans are against it.. Red States are against it. Blue States are against it. How could this be? Could it be possible they all have children?
In fact, it appears there is no one who is in favor of common core, across this entire great nation we are so fortunate to live in… No one except 59 Delaware legislators, who apparently didn't get the memo…..
Before anyone gets bent up over the Christina School board turning down the fight to keep $2.3 million, there is something you should know.
This money was strictly tied to starting a habit for which there would be no money next year…If the board accepted the money, at the end of funding which is this year, the board would have to pay for this extra little thing we have to do just to get our state RTTT funding.
It would be like taking up heroin because it was free.  Then you got to pay for it after you are addicted.
The Board of Education made a shrewed and very smart business decision. Many who do not have a clue will yell at the headlines.  However those of us who appreciate the power of money, who understand money, who know that money works on rules of its own and is not subject to the whims of popular opinion, KNOW this was a very smart choice.  
One that clearly was the right thing to do, even though emotionally it may be hard to bear because after all it was the right decision and not the "easy" one.
There may be criticism for awhile, but by next year, when every other district is debating whether to cut this  RTTT program or fund it with another referendum,  the Christina School District will be focusing on education… as it should…
I for one, am always glad when someone, anyone, is clear headed and makes a tough decision based on what is right.;;;
Now lets see who's stupid and self serving as they line up to criticize the board for turning this down, and who will say…"Oh, this is a stupid decision..  Who passes up free heroin!" ..
Mr. Street:  The floor is yours.  The line starts here. 
========================
Twas the night of mid May,
The clouds were long shed,
The stars were all out,
The moon was half dead.
I'd just closed my eyes
In dark deepest dread.
I had a forewarning
Of what was ahead.
The river was foggy
So full of thick mist,
My eyes played tricks.
A hand grabbed my wrist
"What is it " I cried
As my wrist was entwined.
"Come Hither",  it hissed,
in a voice harsh and sublime.
"In your search of pure knowledge
Things are not as you know
Shapes shift,  spin  around.
Truth lies buried under snow
Down becomes up, and up, is then down"
"Plant only one seed
Something evil will grow".
Something dark is afoot,
In spirit it has stalked,
If it wins out tomorrow,
Education is debauched….
Tomorrow at Two
It will take place in Bright Light.
What I feared from my heart,
In that deepest dark night.
The 147th House would vote,
Without any debate,
On something important
To all our children's fate.
War would soon be declared
On all those teachers who were right.
They'd  all have to leave
Or stand up and fight.
A Bill with nice thoughts
Will be laid on the dock.
But in the dark wording it shields,
A most powerful shock.
Instead of making better,
It tears down all the schools,
Putting up cheap imitations
That mock  all the rules.
No more shall a teacher know
What her calling required?
She could only hope like her kids,
Her scores would help get her hired.
Instead of knowledge, proven and direct.
She'd be tested on simply how well she could bet.
Praxis One and Praxis Two
Those tests of the best.
Would now be retired.
By which test could "bid" best.
Instead of old classics,
New standards were wrought,
"Romeo and Juliette" now replaced
By "How To Properly Clean a Pot".
Twas necessary to learn prose they said.
No matter if such a bore.
It left no brain cells still standing.
Well done, Common Core.
Delaware's education is 35th best.
That Includes the Ivy Leagues,
And all those good schools out West
"Not Good Enough"!
The gauntlet was laid
We must tear it down quickly
Our consultant's need paid.
We must start something new!
We don't know what it is.
But without old constraints
We can create it like jizz.
Who will do this? Good question!
That we do not know.
But when it gets done,
Arne Duncun  will be here to show.
So we'll  make it mysterious.
And hard to deduce.
Make the poor teachers sweat,
Think they're all in the caboose.
We can brainwash them now,
Do it before they begin.
They will soon work for peanuts
Because that's all we'll send in.
We won't let them pass
Till their eyes all have tears in,
We'll switch things around
Like we do on kids with Pearson….
We'll make them earn B's
To get into our class.
Those who don't earn them,
Can get in with a pass.
These new tough standards
Will make bad teaching stop.
Besides we will need them
In our Race To The  Top.
It says right here on line 53
"Must redo college standards"
Let us  buy them  new teacher ID's
Which they can hang from their lanyards.
It says "redo", not "raise levels" I see
Let us  make up our creed
Raise them higher or lower,
Or even sideways if we need.
So let's scrap what we have,
Make new in our image.
Trash all classic standards,
We'll make it a corporate scrimmage.
The tests we used to have,
Were so hard and so tough,
Lets' sub them with easy ones,
Those scores will rise with fluff.
When the kids scream about testing
We'll know we've done enough.
Let's water the standards
But tell them they're tough.
Do it with ed- gobblyspeak.
So those dummies in House
Without even a peek,
Vote YES like a mouse….
Since what you get out
Is What you put in,
We'll have robots for teachers
Their union will end.
But we got to be careful,
We got to act fast,
If they catch what we're doing,
This campaign can't last.
Strike quickly, strike fast
Strike them hard like a flogger.
Can't let them hear the truth,
Keep them far from that "blogger".
Oh we'll smile, we will praise,
We'll do what we must.
What ever it takes
To turn those standards to dust.
Make Teachers in our image?
Yes, that's what we'll do.
We'll count ourselves lucky
If they can count up to two.
The children? Don't worry,
They'll be fine as we speak.
We'll teach them with tests,
So their knowledge will peak.
Then when it does,
We'll know that we have won.
Common Core is in place.
Our work is now done.
Our friends in this Biz
Will now pay for our way.
When we meet our next challenger
Thinking he has something to say.
The Battle is ending
The war's almost won.
We just need some dumb  asses
To vote  in S.B 51….."
The specter was silent
It paused for a while
"Who are you? I said
I saw a faint smile.
It turned slowly towards me
And gave me a stare.
I could feel the electricity
From the bottom of each hair.
"Tell me" I inquired,
just one more time.
But the vision was fading
Into many fine lines
All that was left were the eyes,
And they gave me a shiver
It then grew transparent,
It was the Christina river.
So my friends, if you're up,
If you read this in the morn.
It wasn't a dream,
You must sound off your horn.
You must call down to Dover,
Let them know how you feel.
Hell copy and paste this.
Let them know this is for real.
We are being bamboozled
By clever and wit.
Our children won't learn
Anything, not one little bit.
Teaching requires
Something you can't test.
Requires a human you respect
Pushing to do your best.
We are moving away,
From what has worked well.
We are tearing down Rome
And burning it to hell.
This bill is too rash
Though it sounds pretty good.
It needs not to be rushed,
But debated as it should.
If anything is to change
It depends now on all of you.
Without your quick  input,
Like in the Senate, it will pass too.
It's tearing down what is good
And replacing it with "what-ever"
Gotta be bad for the kids,
No matter hard they endeavor.
This bill needs work.
Though it's ideas are nice.
It will mess things up royally
Without changes concise.
A simple amendment
Is all it would take.
To undo all the damage
And terrible things soon at stake.
A little snip of a scissors will do
Component V and Evaluations…
Just separate the two.
Because the way this is written
If you teach and you fail.
It's the blacks and the poor,
Who lose and wind up in jail.
Their great teachers got fired,
Because they worked in the city.
The teachers in rich schools.
Got good scores, just sitting pretty.
This is the damage this Bill will soon do.
For under this plan
If your kids don't test well,
Your career is so through
Doesn't matter if their poor,
Or if their homes are all broken.
When it comes down to corporate,
All excuses are token
"it's your fault" they'll say
"It can't be the test.
You're lazy and useless
You didn't do your best".
Meanwhile in Newark,
Where teaching's a breeze.
Just wave a magic wand,
And there is no pay-freeze.
Scores roll in higher
Because the curriculum is dumbed down.
Kids do all the work.
You smile looking down.
So reader, what do you think…
As is, what will this bill do?
If you were a new teacher,
if it was you starting anew.
Would you go to the city?
Where opportunity lies?
Teach out your heart?
And stifle your cries?
Or would you choose
The easy way out.
A lifelong career
With no second doubt.
It is so important
That this bill get changed
Otherwise our system
Will split from the strain.
Decouple the evaluations
From component Five.
Let's do what we can
To keep education alive.
This bill needs work
On quite a few levels
That will only happen,
If this vote gets disheveled.
If you love your kids,
And kids of all ages,
Make them retract their pledges.
They don't know what's in this bill.
Because they were told it's ok.
Only the parents who vote
Can still save the day.
This is you I'm telling
Just so you know.
You need to go here,
And call all that you know.
Send them this poem,
It will get their attention,
Then give them the pitch,
Tell them they'll go to detention.
What they're about to do,
Is destroy our great state.
By Dismantling educational.quality
And by then it is too late.
This bill is on rush,
That i can tell you.
Vacation is coming.
But hopefully they'll hear you.
Say "This Bill Cannot Pass"
Exactly as it is written.
"Change it, change it now
Before you get smitten".
I hope these few words
Don't fall on deaf ears.
I don't want to see children
Through veils of thick tears….
It is you, it is me,
Who must carry this fight.
It is we who are parents.
We have the most right!.
.
Today is School Board Elections…Polls are open 10-8…  If anyone is sponsored by Markell or Rodell or RTTT or WSFS, don't vote for them.. If anyone is sponsored by DSEA, they are on the students side. They are safe.
So go out and vote like a goat… Be…  B-a-a-a-a-a-a-a-a-a-a-a-a-a-a-a-a-D
Look, I'm the most skeptical person ever,  But even I was skeptical when I saw the News Journal had this headline posts… (probably corrected by now.)…   Red Clay needs Minnehan on board ….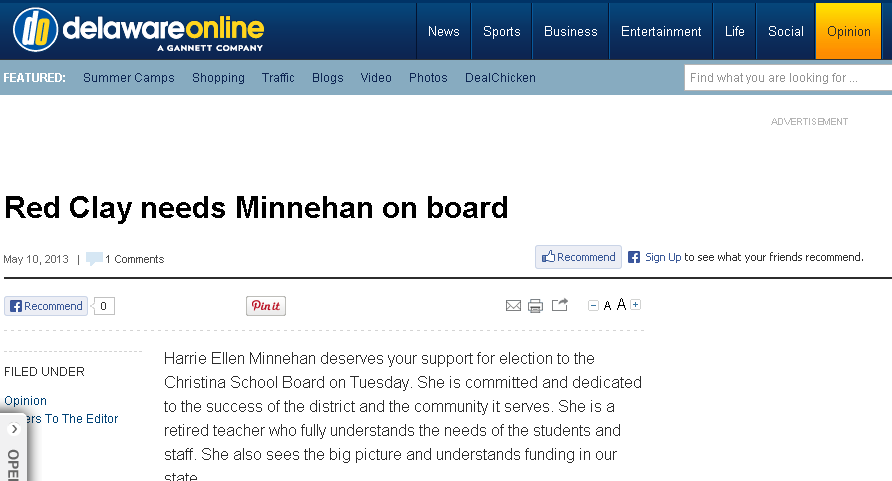 Courtesy of You Know Who
Yes, I'm sure they do, but she is running for a School Board spot in Christina.  At least her signs are all over Newark.  If someone had just checked,  inside the article this word…. C…H…R…I…S…T…I…N…A  is featured rather prominently, in the first sentence no less…  :)  If anyone had doubts, they would go to this link, the News Journal Listing of School Board Elections,  and see there in Christina District E …. Minnehan.
So the question any skeptic should ask, is…. was this done on purpose? If so, why?
The why is the easiest to answer. She will augment the independent streak that Christina District has going. If you are new to education, you probably don't know this: there are two sides. It's not Democrat versus Republican… although it could be, but those lines of partisanship do not reach into our school districts. In education, one either puts "Student's First" or "Business First" … The biggest battle going on in education now, is whether the money we are paying for education, should go to a) teachers and supplies and those that put the two together, or b)should that same money go to a business, who then keeps a big part of that money for itself, and replaces those high paying jobs with ones reflecting minimum wage… Students versus Business.
Minnehan puts students first.
But wait. As Kilroy points out, the News Journal FORGOT two district races in Red Clay.. Hmmm. three errors all aimed at Red Clay…
Why did The News Journal remove two Red Clay board candidate's profile from their election guide re: board nominating district "D" Walters vs Wood and reference to an unchallenged race race in "E"?" Kilroy
The skeptic in me says the News Journal wants Red Clay voters to show up looking to vote Minnehan, and not seeing her, mark the others at random. If done, the "business" side of education, those "Wall Street darlings", may though the confusion, get a extra votes on top of their core, which could upset the election, thereby making Red Clay more interested in which business gets to come in and profit, instead of whether students even graduate…
Minnehan is good, for those in Christina. Those in Red Clay need to go here…
I'd never thought I'd write that.  How could anyone in their right mind be against raising teacher's standards… After all it is our kids we are talking about who will suffer….
Exactly,  Passing SB 51 with S/A 1 Amendment attached, will cause our kids to suffer. That's how I can write that. Otherwise I'd be full force behind this bill just as was every senator who voted for it….
You ask, how can raising standards on teachers, hurt our children?
I will ask you back;  "How would you like to take your brand new car you just purchased to Joe The Mechanic's Auto Shop and have him work it over? How could that possibly hurt your car?"
Basically that's what this law does for education. It is as if we passed a law for cars that said every new car purchased had to be re-certified by Joe The Mechanic's Auto Shop.  The entire premise on this auto legislation lies in this one single question: gee, who is Joe?
If Joe is someone who is the world's best mechanic, factory trained by every car manufactured, a man or woman who can analyze myriads of problems by just with listening with a fine-tuned ear, then maybe this bill could possibly be ok.  But if Joe has no knowledge of electronic computers, but learned his mechanics back in the days of steel and oil, and is a complete loss when he sees a car with no distributer cap,  then taking your car that runs perfectly to Joe The Mechanic's Auto Shop, can damage your car pretty darn bad.
And THAT is the problem with SB 51…  We don't know who Joe is….
What we do know, is that our car is purring perfectly, heck we just bought it, everything was tuned at the factory.  Since it is straight from the factory, it is running very well,  no play in the wheel, clean car smell, all items are working, and even our factory tells us to make sure we take it back to a "factory approved shop" for all repairs in order not to void the warranty….  But our government is making us take it to Joe The Mechanic's Auto Shop.… And we still don't know who Joe is?
And we are not too enthralled by all the junk cars piled up in its back lot…….
That is what is wrong with SB 51….
Our great educational  training program that is functioning very well, is going to be tested and inspected by someone who doesn't know crap…
That should scare the hell out of every single parent….
The educational system of America over the last 13 years has been disrupted. Good teachers have been fired, to be replaced with bad ones.  Students used to read literature, and now they are handed "packets" and read test questions. Schools that have been opened for a century,  have been closed…. The educational system is in disarray; a disarry that appears to have been forced down from the top.
We've all been there… The new boss walks in, and yells "things are going to be different now".  Some are excited, some are afraid, but this boss is out of control… He arbitrarily fires, can't hire fast enough, and the  business breaks down.  It becomes broken.  He came into fix, and it got put… into a fix.  So he storms out, blaming all those left for his need to make an exit.  And then everyone is asked to put it back together, and they do, then the next boss is hired…  If you work in America, you're guaranteed to have  been through this scenario.
We are going to do that with teachers?  Who's this guy, Joe again?  Is this test going to be made by the same ones that lowered Delaware's results?  Is this test going to be like those 5th grader tests loaded with 7th grade questions using letters a,b,c in algebraic math?
As that car owner, we have the best educational system bar none.  Delaware educators have among toughest standards in the country. Counting every school, even the most stringent Ivy League schools, the University of Delaware is ranked 37th in the nation. That's ahead of  Rutgers, Temple, and even Boston University. Delaware State University is solid Tier 2 school.
Currently in Delaware's educational programs, only one third make it through the tough gauntlet into teaching. All students graduating from UD, DSU, and WU have passed Praxis I and II; have logged hundreds of hours of observation and additional hundreds more hours of supervised teaching under the watchful eye of master teachers in our public schools. Compared to the standards even 10 years ago, new Delaware teachers graduated by these universities are the best prepared to enter the classroom in our history.
Delaware should be pretty damn proud. Instead we appear to be on the verge of committing a rash act full of unintended consequences. Our head is in the sand. Ok, the argument may go…. "If we're so good, what possiblE harm can befall us if we take our new baby to Joe The Mechanic's Auto Shop?
Apart from the fact that we do not know who "Joe" is or will be when we get there, there are these reasons. The changes in SB 51/SA-1 actually lower some credentialing standards rather than raise them [see the section on now accepting Composite Scores].
Currently all Delaware student teachers take the Praxis One and the Praxis Two. No pass, no teach. These are the factory cars in the educational equation. There are composed by NCATE, National Council for Accreditation of Teacher Education. This is a very solid organization. If you go to their website right now, you will see that they pre-published their accreditation standards for public view and comments. They also dropped Wesley College's accreditation for not living up to the standards.
This bill would replace these standards with ones created by the Delaware Department of Education. Returning to the Joe The Mechanic's Auto Shop analogy, one has to wonder how a 3 year Phys Ed elementary teacher, can do better than a national organization that accredits schools.
Delaware has the 37th BEST teacher school ranked in the nation. And after this bill is passed, we are going to completely gut our entire program out of all we do so well, and have a 3 year elementary Physical Education Teacher rebuild our entire program from scratch….. One who has never gone through the RTTT testing he inflicts on others? One who quite questionably doesn't meet the minimum 5 year requirement necessary to be a DOE?
It's in the bill. that is what it says.
Would we let someone who has never been a doctor create the state's medical certification program? Would we let a non-lawyer create the state's Bar exam? Would we let a manager of McDonalds create our state's nutritional guidelines?
With this administration and this Senate, I really don't know. We just might, based on what I'm seeing right before me!
So, you are saying you would really take your BMW, Rolls, or Cadillac to Joe The Mechanic's Auto Shop to be certified to drive it in Delaware? Wouldn't you be afraid he'd mess it up, especially since it is working rather well right now? Ranked 37th!..
I can hear "Joe" now… "What are all these damn stupid wires for. (Rip,rip,rip) My old Model T never had this crap"…
It's our kids. We can't rush this, and this bill has been rushed far too fast through the Senate. The House needs to slow down and debate this one…
We can't afford to lose our 37th top spot in the nation for which we worked so hard and so long to get….. We got to stop this bill that will make our cars all go to "Joe's" .
This Ennis sponsored bill in the Delaware Senate seem innocuous at first glance. After all, we are simply adding this line into the charges of a felony. ..
1447A Possession of a Firearm During the Commission of a Felony
This is in a list of felonies including some like Murder in the first degree, which if one is convicted upon having two prior offenses, one is deemed a habitual criminal and put away for life.
I question this because it put all those who carry guns as a normal recourse, in danger. If one is driving down Route 1, and through no fault of one's own an accident occurs in which one is charged with two counts of manslaughter… then just simply having a firearm in your car, makes it the third count, and presto, you are in jail for life.
There are more important criminals who need to be in jail for life, than some farmer from Sussex or Kent County.  There is not enough room for both of them.
If you like guns, and the 2nd Amendment, this bill is dangerous to all gun carriers and needs to be shot down.
Perhaps an amendment is in order.
The internet will be abuzz with posts shortly.  The excitement was great.  No one knew if it would pass. It did.
Melanie _____.______. Smith (lol)  Girl you did it.  Hats off to a rather well crafted bill designed to make it through.  You earned your bottle of wine tonight.
Bryan Townsend is amazing.. A Patrick Henry when it comes to what is just.  I kept seeing Tony Deluca in that position, knowing full well we would have an entirely different outcome had it been so.
Patty Blevins as should be, worked the background brilliantly.  Knowing what must take place to do these things, she gets a shout, because the quiet ones, are the ones you have to watch… It takes a lot of structure to put on a pageant such as this…
Clothier, Marshall and Bushweiller had tough choices.. out of  a thousand voices in their ear, they chose to hear the right ones.  We are so small standing next to them.
Karen Peterson rocked the house.  "If my happiness somehow demeans or diminishes your marriage, you need to work on your marriage"  certainly seems like it would apply to Senator Venables. That dude has some work to do…..
In this hearing and vote, it becomes very clear.  If you look straight into the heart of America,  each and all the values we grew up under, the Democrats embody.
The evil that also lies in America, is Republican to the core… Never in my lifetime did I expect to see people use God to promote bigotry.  For as the vote was failing, as the house of sticks was crumbling around them, as they worked themselves into a fever pitch to make one last gasp to undo the damage, the clear, unadulterated hatred, the pure crystal of evil burned from underneath their skin.  Hatred. Hatred at all these people was their fuel.
I now know what those brave souls walking across the bridge at Selma saw in the eyes looking back.  I now know what those women in children sleeping in Wounded Knee saw when their tents were slashed open.  I now know what those female slaves in Alabama saw in their overseer's eyes… I now know what every Southern black African American man saw, when he heard the phrase… Boy, better move a long now, you know you don't belong here."
Because I saw it staring back at me on the floor of the Delaware Senate. It was in each of those Republican's eyes as they got up and tried to embarrass, put down, demonize an innocent  group of people they deemed inferior, beneath them, slovenly, trash.  It was in the eyes of every fake pastor or priest to got up to twist God's word in such a way as to demean the very one whose words they praise on Sunday.
This is the undercurrent of America we don't like to talk about. This is the sewage that come with building a society.  This is America's most horrible accomplishment.  The underbelly of our just laws and our freedom to say or do what we please.  There are people who only gain worth by putting others down, and because they are Americans, they have every right to do so.  Prejudice will continue.
Seeing it in person was unnerving. Seeing it for real made one sick.  We have a real problem in our country, One that must be put down like a poisonous snake… Sure we can live with it.  But one day it will bite us, or even worse. Our children….
But today, we beat them.  Like George Wallace in the schoolyard doorway, they showed America the stinkin oafs they truly are….
The only reason they voted no… was to fuel their hate.  Delaware and America can and need to do much better…
And lastly. Bethany Hall- Long….. Oh my…   it takes great courage to stand up to one's enemies… It takes even greater courage… to stand up to one's friends….
I have to go now. I cannot fight back the tears…
My friends, we are gathered here today to celebrate one of life's greatest moments, to give recognition to the worth and beauty of committed marital love, and to add our best wishes to the words which shall unite these two people in marriage.  In the words of our Creator, what God hath brought together, let no one cut asunder.
The commitment that the two of you are about to make, is the most important commitment that two people can make; you are about to create something new, the marriage relationship, an entity that never ends.
As you stand here today, are you now prepared to begin this commitment to one another? (I am)
Have you come here freely and without reservation to give yourselves to each other in marriage? (I have)
I would ask that you both remember to treat yourself and each other with dignity and respect; to remind yourself often of what brought you together today. Give the highest priority to the tenderness, gentleness and kindness that your marriage deserves. When frustration and difficulty assail your marriage – as these do to every relationship at one time or another – focus on what still seems right between you, not only the part that seems wrong. This way, when clouds of trouble hide the sun in your lives and you lose sight of it for a moment, you can remember that the sun is still there. And if each of you will take responsibility for the quality of your life together, it will be marked by abundance and delight. 
Will you have this person to be your wedded partner? (I will)
Will you love and comfort then, honor and keep them, in sickness and in health, and forsaking all others, keep yourself only unto them as long  as you both shall live? (I will)
Will you have this person to be your wedded partner? (I will)
Will you love and comfort them, honor and keep them, in sickness and in health, and forsaking all others, keep yourself only unto them as long as you both shall live? (I will)
Since it is your intention to enter into marriage, join your right-hands, and declare your consent (before these witnesses) by  repeating after me: 
I, take you to be my partner, to have and to hold from this day forward, for better or for worse, for richer or for poorer, in sickness and in health, to love and to cherish, as long as we both shall live. Take this ring as a sign of my commitment and fidelity to you. …
I, take you to be my partner, to have and to hold from this day forward, for better or for worse, for richer or for poorer, in sickness and in health, to love and to cherish, as long as we both shall live.  Take this ring as a sign of my commitment and fidelity to you. 
In so much as the two of you have agreed to live together in Matrimony, have promised your commitment to each other by these vows, (and) the joining of your hands (and the giving of these rings), by the authority vested in me by the State of  Delaware, I now pronounce you a married couple.  Congratulations, you may now kiss as a married couple….
Ladies and Gentlemen here who are witnesses.  May I present to you the world's newest couple…. 
Awwwww.  How can anyone vote against something as wonderful as that?
The problem behind Common Core, or as Mike O rightfully calls the misuse of Common Core, is that all we have are rumors.  If the rumors are true we have a disaster in the making.  Well, the rumors are true and the test that was turned in to a British Paper (excellent move) proves it.
According to the newspaper that has seen the test,
It's full of long, dense, off-the-wall nonfiction passages on making wind tunnels, soil formation and studying whales. There are two short stories, both set overseas. And there's a vague selection from a poem about loneliness that students must interpret before choosing among four answers that contain two arguably correct selections.
Students got 90 minutes to complete the 32-page test, which contained 42 questions based on six written passages.
The News asked testing experts, teachers and parents to analyze the test, which state and city education officials have kept under lock and key. Everyone who saw it was left dumbfounded by the killer questions.
"You might as well just put 'failure to students' at the top of the exam," said Tracy Woodall, a stay-at-home mom whose son is a fifth-grader at Public School 1 in the Bronx. "There's no way they're going to pass this."
The questions on the fifth-grade reading test, designed to test comprehension, were enough to stump a city high-school teacher who reviewed it.
"Have these students had an opportunity to build up to that complexity? The answer is no," said the teacher, who asked for anonymity for fear of getting sacked. "This test is coming at them like an anvil to their face."
Aaron Pallas, a testing expert at Columbia University, ran the new fifth-grade exam though a computer analysis program and found that it was actually calibrated for the "middle of sixth grade."  Numerous families boycotted the new exams, and the national teachers union boss called for a moratorium on consequences from the high-stakes tests until they're better-understood.
We are killing education in America by purposefully making the test so they make children fail, and then use that to fire teachers and close schools because their test results are so poor.