You are currently browsing the category archive for the 'debt' category.
On July 1st the interest rate on student loans rises  from 3.4 percent to 6.8 percent of this year.
One year ago, the trillion dollar mark was crossed for the amount owed and required to be paid back for a student's education..
3.4 to a 6.8 is a doubling… Just on a gross scale, off a Trillion dollars, the interest per year is jumping from $34 billion to $68 billion.   On a $16 trillion GDP, that is nothing.  But when you look at other figures, that jump has shocking consequences for the world-wide banking system.
The post graduate boom is usually what drives our economy.  New cars, New electronics, New houses.  Dining out. Spontaneous purchases.  A study by the New York Federal Reserve shows that graduates are living austerely to pay of their gigantic debt, most of which are more costly than the mortgages owned by middle America.  Asking someone to buy a house while paying off their educational loan, is equivalent to asking then to buy a second house while still paying off their first,  How rich does one have to be in order to do that? What amount of yearly income is required to do that? +$125,000? Does this mean there will be no net new buyers of houses for 20 years?  Anyways, after July 1st, there will be $34 billion less with which to purchase houses.
The Department of Education predicts a default rate of 13.4%… Off a trillion that means $130.4 billion dollars will be the amount defaulted. $130.4 billion. 
So adding the two together, the upcoming shock on our economy will now cost $198 billion. Poof, right out the door, $198 billion. Gone from our economy. 
Tran Union a credit reporting agency says the data in it's files show that almost half, or 43.5% of student debt is in deferment.  In dollars off that trillion total, that would amount to $435 billion dollars of debt not being paid in a timely fashion.
Particular concern must be paid here, because more than half of college graduates under the age of 25 are either unemployed or underemployed — the highest rate in 11 years, according to an analysis of government data.
Putting the two together, we have half of those required to pay $435 billion defaulted, who are either under or unemployed.
As we saw with mortgages, when people can't pay, there is no notice, They just walk away.
A nation depends upon its newest generation to lead them forward with energy and enthusiasm, long after the previous ones are tired and ready for rest.  This generation is coming out on the playing field, weighed down like knights of old, in ancient armor….  The upcoming football game does not look promising…  Their best 100 yard dash is just under 10 minutes.
Originally published on the Office of Management and Budget blog and picked up here off the Treasury Blog… the magic number of deficit reduced is $737 billion.
Put into perspective.
That total is for the entire span ranging from 2013 to 2022, covering this presidential term and the next two.
This is compared to the $4 Trillion Grand deal that was agreed to by everyone back in August 2011, then scuttled by Paul Ryan (Romney's VP pick), who walked out of the agreement taking the Tea Party Republicans with him… The agreement was there, it was right there on the table; Obama had signed on. Democrats in the Senate had signed on. Republicans in the Senate had signed on. Democrats in the House had signed on. And the Republicans in the House had signed on… But then, to everyone's surprise! Paul Ryan, said no, it raised taxes, so he and his Tea Party couldn't vote on it… The deal was scuttled. And we got sequestration, a new debt ceiling, and the expiration of the Bush Tax Cuts all at once… . .
Last Monday, Paul Ryan voted to raise taxes. So what was the Big Deal?
This table shows the relief from last years policy. This year, we will cut the proposed deficit by 4 billion. That is in jeopardy, because the Hurricane Sandy relief which has been promised to be passed by the new House of Representatives sworn in yesterday, is already 60 billion over what was previously budgeted…. Next year we may get some of that back; this bill drops our deficit $42 billion.
The point I'm making is that this bill although a victory, actually saves very little…. Obama originally said we'd go with $1.6 Trillion in new revenue. $2.4 Trillion of cuts would be on top of that. Now, including both revenue and cuts, we have not even half of that. Over 12 years, we save $737 billion with $329 billion coming from the last three years of the second term of whomever gets elected after President Obama!
What we got …. was a deal. That says something. America should be grateful for small wonders. America also got time to debate the cuts. They would have happened immediately without debate had we done nothing. SURPRISE!!! 500,000 ARE UNEMPLOYED AS OF TODAY!! America got unemployment insurance extended. America got the wind credit tax extended, very necessary right now. America got higher taxes on the top half of the 1%.… As they scramble to bury their money into our economy, we could see job growth come out of it… And that is really what was important. That the 2$ Trillion sitting outside the economy, get taxed so it becomes now cheaper to invest in our nation's infrastructure and not in the stock market…. That was the whole idea for high taxes. Force investment into the economy…. Those 400 people who own the top 1/10th of the top one percent of the wealth, now… have to do something with it.. or lose it…
But as for affecting the deficit, it could actually help if the economy takes off and 12 million new jobs open up as anticipated. Those new jobs will pay tax money too, more than making up what the incomes between $250,000 and $400,000 got to keep.
But Delaware's Senator Tom Carper is correct here. This bill he voted no for, simply kicks the can down the road, where had it not been passed at all, the laws on the books would have begun to eat up the deficit like bacteria in a sewage tank… Like taking an antibiotic, which makes you initially get sick the first day, then you begin getting better almost immediately, this deal against which Carper voted "no" would have caused a recessionary blip, then pulled us into prosperity.
This flashing, daring, last minute grand compromise, as Carper rightfully states, is the equivalent to opting NOT TO TAKE THE ANTIBIOTIC BECAUSE IT MAKES YOU A LITTLE SICK THE FIRST DAY…..
Tim Geithner said today, that the Treasury runs out of money on December 31st. That day we cross the $16.4 trillion debt limit.
Extraordinary measures can be expended to provide a stopgap… The Federal Treasury can raise $200 billion as a stopgap which provides 2 months leeway…
We were here once before, and learned nothing.
This crises is caused by a holdout band of renegade Republicans who for better or worse are out to destroy the United States of America.
There is no other scenario.

Courtesy of New York Times
Here is the sight where you can fix the deficit yourself... Let me know how long it took and what you found to be your biggest surprise?
Indirect link:
http://www.nytimes.com/interactive/2010/11/13/weekinreview/deficits-graphic.html?choices=012vn5qj
I wish I could say it was both parties to blame. But to do so is to lie. That is one thing I don't do.
After crunching the numbers the president's plan is the basic, lowest tax increase we can afford. Anything less, does nothing to bring our nation back to prosperity. I certainly would argue that the tax increase should be higher, but it appears that instead of starting high and negotiating lower, Obama started with the bare minimum. This is it; take it or leave it. He cannot go below that line. Period.
The Republicans know the stakes; but would rather take us over the cliff, instead of looking weak to the faithful of their party, which lost btw….
It is just nuts. Now, they want to create another debt ceiling crises? …. again? Is there no end to stupidity?
Pros and Cons of Holding A Nationwide Strike on January 2nd, 2013.
Pros:
1) Forces Republicans to negotiate.
2) Demonstrates to Congress this is not a game.
3) Gives everyone a day longer holiday break.
4) Raises stakes for Tea Party Republicans thinking about defaulting.
5) Causes all eyes to stay focused on the deficit issue at hand.
6) Could be conducted as a wildcat strike , just call in sick.
7) Shows that Americans are serious about taxing the wealthy.
8) Gives our president a tool to hold over corporate America
9) January 2nd is the lowest productivity day of the year, no economic loss
10) Needs to be viral to have any meaning. People have to want to show their support for balancing the budget through taxes on the wealthy.
11) Continuation of occupy themes.
12) Businesses as well as labor, can show their support for raising taxes on the wealthy.
13) After experiencing a nationwide strike, Labor negotiators will have more clout in negotiations.
14) America's people takes back their destiny. Like Thanksgiving, almost every American is off work.
15) Will demonstrate what happens if America stops working.
16) Will be called off if Agreement is decided before Dec. 15th.
17) Should be also supported by Businesses, corporations as well as workers. We all have a hand in making sure our government can pay it's bills far into the future.
Cons:
1) Inconvenience to those flying that day, or any travelers.
2) Lost day of work.
3) Job may fire you.
4) There are no winners in a strike. Victor goes to the one who stands hardship the longest. All lose.
5) If successful Could be overused. Strike for Animal Rights.
6) Will gum up normal operations. for whole day. and perhaps the next.
7) Will lower GDP by one day's worth in that quarter.
8) May cause gigantic riots never before seen in the history of the World.
9) Nobody will come.
One year ago, September 8th, 2011, the greatest President in our lifetime (you may not agree now, but you will, you will) laid out the American's Jobs Act.
The plan included stimulus spending in the form of immediate infrastructure investments, tax credits for working Americans and employers to encourage consumer spending and job growth, and efforts to shore up state and local budgets to prevent further layoffs of teachers, firefighters, police officers, and other public safety officials…..
IT NEVER BECAME LAW.
One month later, the GOP blocked the bill in the Senate, preventing the creation of more than a million jobs and the added growth that multiple economists predicted would occur if the bill passed…..
1 million jobs, Republicans like Mitt Romney, Paul Ryan, Eric Cantor, Mitch McConnell, and every single person running this election under the banner of Republicanism… cost you..
1 million jobs. One million jobs.
Jobs bills are seeds that usually sprout and give fruit in other jobs. If ten people in your community suddenly get jobs, they will spend some of that in your community. It could be groceries. It could be gasoline, It could be the Indian liquor store. It could be Radio Shack. But they get it. When the government creates jobs, we get the benefit.
Republicans killed 1 million jobs. Why? So Obama would not get re-elected.
Where would unemployment be now?
12.5 million unemployed minus 1 million employed equals= 11.5 million unemployed. Today our rate would be with no additional growth in the private sector, 7.4% (11.5/154.6= 7.4%)
Republicans are the reason our economy sucks. They didn't want Obama to do his thing…. and grow those jobs…..
Here is what others said the Jobs Bill, killed by Republicans so Obama wouldn't get elected, ……
–Moody's Analytics estimated the American Jobs Act would create 1.9 million jobs and add two percent to gross domestic product.
–The Economic Policy Institute estimated it would create 2.6 million jobs and protect an addition 1.6 million existing jobs.
–Macroeconomic Advisers predicted it would create 2.1 million jobs and boost GDP by 1.5 percent.
–Goldman Sachs estimated it would add 1.5 percent to GDP.
Republican Tea Partiers have also cut 700,000 jobs since 2010. Public-sector job cuts also cause job loss in the private sector, for a couple of reasons. First, public-sector workers need to use inputs into their work that are sourced by the private sector. Firefighters need trucks and hoses, police officers need cars and radios, and teachers need books and desks. When public-sector jobs are lost, it stands to reason that the inputs into these jobs will fall as well, and indeed research shows that for every public-sector job lost, roughly 0.43 supplier jobs are lost.
And they blame Obama? Gee, what a great president we have who has to work with garbage and still, does what is right for the American people. 96,000 brand new, never before, created jobs in July…. Surely we live in the times of the "Best President Ever"
If America can just wipe out every single Republican on the ballot, whose party is solely responsible for the crash in 2008, the fall in 2009, the crises in 2011… today's sluggish growth… we would get roaring.
Republicans can do no right. At least when it comes to your money…
Their money? Oh, no problem.. "I'll bet you $10,000 dollars, right here…."
The headlines should read:
OBAMA GROWS 96,000 JOBS DESPITE REPUBLICANS CONTROLLING HOUSE.
Now that, is a proper headline.
One of the nice things about not blogging, is that I can now go back in time.
Just testing out my new toy (homemade time machine), I set it for August 4, 1999….  (It was supposed to be April 4, but I belatedly realized I needed to put more than just an initial for the month…Sigh. Life is a learning process… )
Since this was just a test (I didn't want to get lost in time), I just took it the millennial equivalent of around the block.
While there, I came across this and said:  "Damn".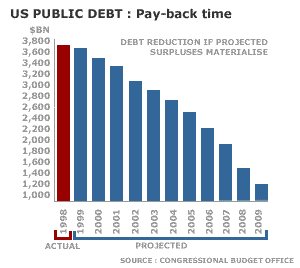 Courtesy of BBC
Wow. We'd just paid down $38 billion of the debt and could see how the national debt would disappear in 2008….
And here are some other items lifted out of that context…. doesn't it seem like so long ago?
Treasury Secretary Lawrence Summers said that "reducing the supply of Treasury debt held by the public brings enormous benefits for our economy".
Savings could be used instead for more productive investment in factories, while reducing the total amount of debt would help cut interest rates.
Official projections suggest trillions of dollars in budget surpluses over the next 15 years, boosted by a strong economy and strict controls on spending.
The Republicans are proposing a $792bn tax cut, while President Clinton and the Democrats want to add funds to the social security retirement programme and Medicare, which provides health care for older people.
Wouldn't that have been nice?
Such a course of action has long been advocated by Alan Greenspan, the influential chairman of the US central bank, the Federal Reserve.
He argues that reducing government debt should take priority over tax cuts, as the move will free funds for private investment and lower government spending.
We blame Greenspan for a lot of things, but even he, was against what became known as the Bush Tax Cuts. Simply because they are harmful to the United States of America.
The government hopes that by making repurchases, rather than just selling less debt in the future, it can better manage its portfolio to save money.
By retiring longer term debt, while issuing more cheaper short-term bonds, it will keep the cost of the debt repayments lower.
Can someone tell me again why we went away from this policy? Oh, yeah, Republicans won….
So today the National Debt stands at $16 Trillion in debt. If we made no changes, and just taxed all corporate profits at 100% like we did during WWII, at $2 Trillion a quarter, we could pay off the entire national debt in 2 years….
Without hurting a damn thing.
Let's get started. To do so we need to send NO Republicans to any office. When the scale of their loss becomes apparent, all guilty parties will know, that this IS the will of the people. No increase in spending; just tax all the profits of the Bain Capitals and use THAT money to buy back Treasury Bonds early….
The only downside to this plan, is a roaring economy. But we're a big nation. We can handle that….
Back in 2000 when we the CBO projected budget surpluses "as far as the eye can see", Paul Ryan argued that the deficit was too low.
Today, our budget is in crises. Paul Ryan says we will face cataclysmic failure if we do not eliminate our welfare state.
But in 2000, Paul Ryan took the opposite tack. The surplus is huge; we must eliminate it it lest the government pay off the entire national debt and start buying up private industry….
Paul Ryan voted for funding the Iraq War by borrowing. He voted for the theft of $1.6 Trillion from the Treasury in the form of the Bush Tax Cuts. He voted to fund the Medicare Prescription Fund by borrowing. Paul Ryan voted borrowing for the TARP fund, as well as borrowing to fund ethanol subsidies.
In fact: if we didn't have Paul Ryan in Congress, today we wouldn't have a deficit.
(His budget projects a deficit that is 10 times greater than that proposed by Obama.) When Republicans were in power, the deficit was too small. When Democrats took over, the deficit was prime target number one.
Some things haven't changed. Ryan still wants the wealthy to pay no taxes. His policies still put the financial burden on the middle class. Likewise Ryan still wants to increase military spending beyond what is rational.
Ryan once said, a surplus was far more dangerous than having a giant deficit. As his budget shows, nothing has changed. Today he has a primary challenger who may topple him, if his constituents ever find out how their lives were ruined by the man they put in office.
(I'm so sorry; there just was no way I could not use that title…)
Ryan's budget makes people so mad they want to kick Paul Ryan in the balls.
How dare he make up figures out of thin air that don't have one grounding in reality?
But, even though he is a Republican, and Republicans are in desperate need of a "reality check.."… it is wrong to kick a Congressman in his balls… I call on Secret Service Protection for the junior Congressman from Wisconsin…. (Actually the whole state has gone crazy since Brett Farve left Green Bay)…. Because Paul Ryan is in grave danger… of losing his privates to any passing stranger..
Here are some things in his budget that may cause people to react violently.
Elimination of Medicare: meaning that if you can't afford inflated medical care, you will now do without… If you CAN afford medical care, you will be paying out of pocket, anywhere between $15,000 and $20,000 more a year in medical costs…. Courtesy of the GOP.
Likewise, there will be no change in taxes being paid by the bottom 52% of the population who already pay no taxes. The savings of having your rate drop to 10%, is only on paper, because a family of four now has a $49,000 deduction.
Also no corporation will pay taxes. Nor will wealth be taxed in any entity. To pay for this loss of income, Ryan has ballooned the effect this will have on the economy. However, even at first glance, it is rather obvious, that if no one is paying taxes, then no matter how well they are doing, the finances will not come in…. Zero times billions is still zero….
And he will cut jobs. Eliminate the Federal Government as we know it. Need someone to check if your drugs are safe? Gone. Need someone to check if your food is safe? Gone. Need someone to check if your investments are safe? Gone. Need someone to muscle the oil companies when they get uppety? Gone…
By Ryan's budget, we will be paying $6.00 a gallon of gas. $9.00 for a gallon of milk. $45 dollars for a gallon of Pepto Bismol, which we will certainly need… Our home electric bills will climb to $400 a month. Our grocery gills will climb to $1000 a month. Our insurance will soar to over $2000 a month….
If you get sick, a doctor's visit without insurance will cost over $1000.
State and Local governments will have to fill in for what the Federal Government is eradicating, meaning that any tax credit you get from the Federal Government, you will pay out even more to state and local governments who now have to bear the full cost of each and every expenditure.
It used to be that very wealthy people paid a lot of money of which they had no way of spending, and that was divested to state's and local government.
Now, you will have to pay the cost while the rich pay nothing …..
Seriously, this budget is like a high school project, where the students were just concerned with making sure the math added up right, and not even the slightest concerned over the effect it would have on America the nation.
This budget will end America… Pure and simple.
Obama's budget however, puts us on a track of sustained growth and prosperity.
So, refrain. Don't go kicking Ryan's privates in your anger….. Just swear that for your life, you will never vote for a Republican again, and you will do your best to persuade every human being that crosses your path, to do the same….
It is not about politics; who really gives a shit about Democrats and Republicans…. Instead, it is about survival… While America's citizens are bailing out water of the Titanic's lifeboat, these knuckleheads are drilling holes in the bottom of the floor .. Throw them overboard…