You are currently browsing the category archive for the 'Charlie Copeland' category.
Caesar Rodney Institute has promoted Charter Schools as being the future of education.  As posted earlier, Charter Schools always fail.
As one more example piled upon the skyscraper of evidence, here is Pencader Charter School today…..
To say this happens in public schools all the time, misses the point… We spent millions on this Charter School just to allow kids to learn in an environment where THIS WOULD NOT HAPPEN.
The inside story is that adults were responsible for this unfortunate situation, not students.
One more charter schools fails again.  Yet Caesar Rodney is still trying to get hard earned tax dollars spent on these wasteful projects just so it's benefactors can get their hands on some of your money….
Wouldn't that money have been better spent rebuilding one of the schools we already got?
Of course it would.  Charter schools always was, is , and will be a horrible idea….   In fact, for quick reference, anything   everything the Caesar Rodney Institute sells itself out to represent, is… a horrible idea.   I guess that is why they are there.  So people with horrible ideas can try to fool the rest of us who don't have time to do the research to understand this fake organization is lying to us…. they'll say anything for a fee, mind you, for a fee.
The reason I began listening to local station WDEL, was because they dropped Rush Limbaugh from their afternoon programing. Instead of hate and stupidness, I got to hear of matters important to me. My county government. My city government. My state government. And of course, national politics always interjected.
I can't get enough of it. I read the paper in the morning, and I can't wait for the local talk shows to come on. The progressives own the morning. The conservatives own the afternoon, and I'm still trying to figure out who owns the evening…
It is kinda silly, I know, but because I listen and hear the advertisements, my kids sing their jingles in the car. Driving down Main Street in Newark, they'll blurt out, "there's Alex and Ani's". The older kids insist they want music on, but I'm the boss.
Some of the advertisers seem like old friends. One hears them over and over, and even can go back and note the different commercials back through time. Calvert Plumbing and Heating is one I hope to use next time fate strikes. The best one, besides the "Alex and Ani" with sitar music put in place by Rick Jensen, is the DelmarvaJobs.com featuring the harp player. I hope that gets nominated for CLIO, the advertiser's equivalent of the Oscars….
And this should be in everyone's Northern Delaware bookmarks. It is the tower cam. One rarely thinks of us being in eyesight of downtown Philadelphia, but we certainly are. One can tell the weather with one visual click.
Anyways, the point of this was not to brag on WDEL and extol how fortunate we were to have it at our disposal, but to point to the dark side, which is about that human being whose leaving is what drove me to begin listening to WDEL in the first place.
Rush Limbaugh is in trouble. For a while he was harmless harping at Democrats, and we all know, sometimes Democrats need harping at. But as his worth became higher, he had to push buttons to justify his high expense. His audience no longer consisted of regular Joe's, but had to become fanatics who would listen and respond. And the biggest thing fanatics crave, is more fanaticism, and Rush obliged.
Now, he bashes the poor. Now he bashes every gay person. Now he bashes Liberals. And last March, he bashed a woman for simply being a woman.
That made people take notice. WHOA, this guy is an ass…… Seriously, when you demean 53% of the population (women), knowing that at least half the men are married and will dutifully side with their spouses (YOU'D BETTER!)….. ticking off 75% of the American population, can't be good for business.
That is bearing fruit.
Arising from that, several organizations are targeting his advertisers. This is not a hate campaign. It is a calm, respectable, and very businesslike campaign. They are calling up advertisers and saying …"yesterday your ad played on this station at this time, and this is what went before and after it… Advertisers were appalled…. Most of them do not support Rush Limbaugh, but buy ads with a local radio station…. The radio station then puts their ads in holes where ever they need them… Radio stations that carry Rush Limbaugh are bound by contract to still do so, and are having a terrible time scheduling just those advertisers who … so far… have not expressly said…" Make sure we aren't on Rush."
2200 sponsors have pulled their ads so far. At first these were mentioned but Rush supporters attacked these businesses with threats of shooting them with NRA sanctioned assault weapons (they were idle threats, no events occurred) that now, the names are kept hidden. But anyone listening over time, can certainly, after hearing only one advertisement on his program get played over and over, realize his brand is in deep trouble.
The show is doing so badly that Freedom Works, the Karl Rove PAC that garnered $300 million dollars, is using their money just to keep Rush on the air…
So in what seems like an outrageous chain of events, the only reason Rush Limbaugh is still on air it appears, is because billionaires have too much money on their hands… In 2013, Freedom Works plans to spend between $25 and $30 million. Glenn Beck is also included in its largess.
Freedom of speech is a right. No one is arguing over whether Freedom Works benefactor Stepheson can say what he wants with his $100 million donations. But that right goes both ways. Advertisers have the right to know what their money appears to be saying about themselves when their ads show up on Rush Limbaugh.
It says, "I the advertiser, support the embarrassment of the poor. I support the deportation of Mexicans. I support the incarceration of the entire black comminity. I support the killing of Liberals with assault weapons, and I support the rape of women"… In fact, supporting Rush, say something like this: " Hey, woman, come take your clothes off and dance for me….. After all, that's all you're good for!!!! Ha, ha, ha."
You too must join in taking him down, for the simple reason that it allows many more Americans to enjoy the benefits of local radio programming as we have here in Delaware for 6 years….
https://www.facebook.com/groups/flushrush/
https://twitter.com/search?q=stoprush
http://www.change.org/petitions/sign-here-tell-40-of-his-sponsors-like-amberen-sweetjack-and-genesis-diamonds-we-will-not-buy-products-that-support-misogyny-and-racism
The stuffing of the goose is done. Time to cook the goose, and at the feast, get back to being Americans again. Working together, and not against each other…..
Hi, I'm Cathy Cloutier and I approve this message.
Hi, I'm Chris Counihan, and I approve this message.
One nice thing about the 5th District:  no matter who wins or who loses, the initials on the 5th district desk in the Senate will not have to change.
The most interesting aspect of the race is the position being taken on abortion and gay rights by the incumbent, Cathy Cloutier…. Cathy Cloutier plays both sides, being endorsed by Planned Parenthood as being pro-abortion, and by Rose and A Prayer, as being anti-abortion….  How can that be?   I am for life, before I was against it?  I am for a woman's right to choose, before I was against it? Does it sound like someone filled out questionnaires two different ways to get two opposite endorsements, hoping one side would never see the other?
If so, is that the kind of tough leadership, the 5th district needs? "Hi, Cathy, I'm voting for you because you are for planned parenthood"…  6 months later… "What are you doing… I voted for you because you "were" pro choice!…..   or…
"Hi, Cathy, I'm voting for you because you are against abortion.  I'm Catholic you know.  …. 6 months later…"What are you doing!… I voted for you because you "were" pro life….
Is that fair?   I mean…  would it be fair if you went to SuperFresh, and bought a box of Ritz Crackers, and opened them to find orange cream filled Oreos?   How would you deal with a manager when you took it back who said….  sorry, we couldn't sell those the way they were, so we repackaged them in Ritz Cracker boxes… Buyer (voter) beware!  You bought them, you own them!  They're really not bad if you dip them in chocolate first…"  And when you get irate with him, he wags his finger in your face and goes… "ah, ah, ah, I know Tom Carper."…
And then there was the story on trying to make all marriage equal…. Cathy Cloutier was courted for her vote… "Oh, yes, I'm for gay marriage, all the way, count me in…. I like gays and I think gays are just as normal as people who aren't gay… I will be glad to support gay marriage"….
When the vote came…  "Has anyone seen Cathy?  Let's check the hall… Cathy, you out here?  Someone go in the rest room… Cathy… Cathy… are you in here?  Quick.  Go check her parking spot…   That's her car, it's backing out… Call her… she's making the turn onto King….  Call her…   Did you get her?…  No! …voice mail!….."
Question is… does the 5th District deserve this type of leadership?  Or, does it deserve better? Seriously there are two types of people serving their districts.  One is everything to everybody, and no one to nobody…  Like social gadflies they touch on every subject, but never let on who they are or what they feel…  Basically you elect them because of other reasons, besides their convictions…  You could have had a drink with them.  You could have spoken with them on the phone.  You could have once been friends with her husband… Whatever the reason, you couldn't care one iota what she thinks or what she believes…  We all know someone like that…..
The other side, of course, is the competent one.  He learns, creates, moves forward, and causes his district to prosper, instead of just wither on the vine… This person has convictions and is not afraid to tell you about them.   In this case, Chris is pro women ( actually more than the woman running), and is pro equality to marriage, not letting arbitrary items like gender stand in the way of two human beings who love each other and want to spend life together as a couple….  Seriously, what kind of ogre could be against marriage.
It appears the Cathy Cloutier kind.
Cathy has been a Senator since "Gore got more", and "we got Bushed whacked"… 2000.  She has been a Senator for twelve years… What's happened over those twelve years?  9/11 for one, two wars for two, a giant recession for three,  the acceptance of gay marriage, now even by Chik Fil A, … quite a few things…   How many of your cars were built before 2000?  My guess 1%… How many of you still work off laptops from the year 2000… probably less than 1%… How many of you still use the same phone as you did in 2000, you know the one where you pull the antennae out to talk or receive calls?   How many of you have the same computer you did in 2000?
Point is, keeping the old around hurts us sometimes.  There comes a time to upgrade. To put new blood in.  To give the energy levels a boost…  The longer you keep someone in the same office, the less and less they become effective….
How will someone who runs from accountability be able to handle the challenges we face the next four years?  If Romney gets elected, Federal funds to Delaware will stop instantly in order to cut back on the Federal Deficit.  If Romney gets elected,  the stock market takes a nose dive, as confidence in a campaign run only on lies, dissipates.  If Romney gets elected, Obamacare is instantly gone, and we have to rework the entire medical process all over again..  If Romney gets elected, Federal taxes get sliced, which means our taxes now appear higher by percentage in comparison.  We will have to have backbone to raise taxes, since Romney is sending us most of what used to be run by the Federal Government, down to the states, with more responsibility, we will have no choice but to raise state taxes sky high to cover the new services thrust upon us…
Is Cathy Cloutier up to the challenge?  Chris Counihan certainly is…  With insurance, government, political science, entrepreneurship, experience, Chris Counihan has the ability to accept very challenging situations.  Indeed, we know they will be very challenging during the  next four years.  As we try to wrap our state around Obamacare if Obama wins,  someone well versed in the insurance trade inside the legislature, can balance the weakness  existing  in our state insurance department.  As we try to insource new funding, having someone who has direct experience in trying to woo jobs to Delaware,  is exactly what we need as we banter over how to make that happen.
Is Cathy Cloutier still up for the challenge?   The voters of the 5th, can choose between two types.  One, is the person who waits for others to do the leg work, asks their opinion, and then votes without knowing any of the details, and the other type, is one who does the leg work…
There are two completely different styles… One old, set, and hard to change.  The other, new, full of ideas and energy, competent, aggressive in tackling problems, and just happens to be in the same party that controls the state….
Cathy Cloutier states that she gets along with both parties.  (Obviously now we know why…)  But she has to.  There are only 7 Republicans in the state Senate. There are 14 Democrats as well as a Democratic governor.  Doesn't it make more sense to elect someone who doesn't have to fight every minute just to bring some crumbs back to her district?  Doesn't it make more sense, if the Democrat is far more qualified, to put him in so the 5th District can once again thrive, and be proud of its own when it picks up the News Journal in the morning?
You will have to decide… but a wise man once said… "never do business with your friends… they won't take you seriously, and you won't take them seriously"…   Many people are friends with Cathy…  They will have to choose between friendship and everyone-else-in- their-district's, … well being….  It will be a tough four years for this state's government….   so choose wisely….
Courtesy of the News Journal:
"He had filed for bankruptcy just before the 10 a.m. start of the sheriff's sale as a last resort, and succeeded in getting the sale of his home stopped, at least for Tuesday.
Wharton said he is upset that despite all the talk from politicians about helping homeowners who are underwater, his bank aggressively pursued foreclosure and has been difficult to deal with. He said he was told $18,000 would stop the foreclosure so he worked to get the money. Two weeks later, with $28,000 in hand, he was told he needed $30,000, he said.
These banks and say-one-thingers-then-do-another, are the voice behind statements like this…
"Of course, they ( the Occupyers) don't want to have to follow the regulations or pay insurance and usage fees while they protest."
Why would they? When once paid, you'd change your demands and raise the ante?
THIS is why more rules, regulations, constraints, taxes, morals, ethics, and just general responsibility, need to be "imposed" upon the 1%.
Here is how each state stacks up today….
The United States Poverty levels broken down by state…….
There are a lot better places than Texas it appears… Hell, even Bachmann and Palin look better when seen next to Perry on that map…….
Now let's see how we got here….
History of Medium Household Income.
Hmmm. When taxes got cut in '73… a decline.
When taxes got cut in '88… a decline.
When taxes got cut in '01… a decline.
But when we actually raised the top marginal rate………
Whoopee. 1993…. medium income rose to its' highest level… ever!
When the capital gains tax got cut in 09……. it was over… We have never recovered….
Next time someone asks you to vote for them to cut taxes, stuff this in their face…..
We need to vote for someone with enough balls to explain just how this occurred and why increasing taxes on the wealthy, is good for the entire country… Especially the wealthy themselves……
Senator Hatch's own words….
"We've been down this road before," he said. "In 1990 Congress and the president struck a deficit reduction deal that combined spending cuts with tax increases. Unfortunately, while the tax hikes remained, the spending restraint did not, and our debt has marched higher."
The Reality: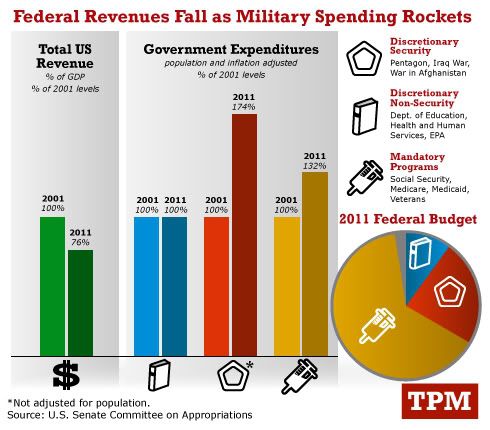 Courtesy of TPM
So if you knock off the 74% overspent on both wars, and knock off the 32% overspent on the Medicare Medical Profit Enhancement Act signed by Bush in 2003, spending is flat relative to GDP.
Revenue isn't… Hatch says it worked great then… As reality shows, the only difference between then and now, is we aren't taxing enough… Any Republican who says we are taxing too much, is like Hatch, a big, fat liar….
Poor Roger Clemens: Apparently it's more of a crime to lie before Congress, than it is for a member of Congress to blatantly lie on CNN to the American people?
Did he just say (1:00) "although the tax hikes remained (uhh, is he so old his memory skipped over the Bush tax cuts?) … our spending cuts (see above chart) did not?
Caught in the act, Big Fat Liar…. Got some water to pour on to your pants?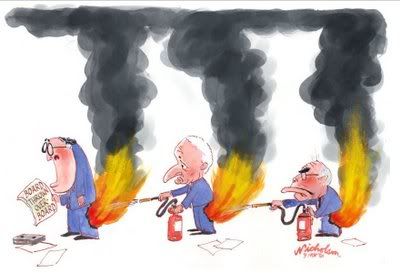 Image Courtesy of Cape Cod Living