You are currently browsing the category archive for the 'cancer clusters' category.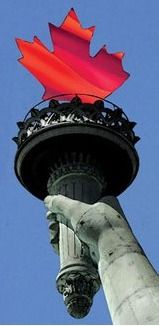 Woo Hoo… but it is not what you would at first think……..
Facts:
The Average Canadian is Richer than the Average American. And you know that they say about averages, which means the lower levels here in America are way, way, behind……
Net worth of the average Canadian household in 2011 was $363,202, while the average American household's net worth was $319,970.
Primarily, paying private health care costs in America and not in Canada makes up the difference.  This past years aging of the baby boomers has increased the medical costs to American society as a whole, and those retirement plans once listed on America's books as assets, are now quickly being funneled into retirement homes, hospital death panels, and insurance exec's 7th and 8th homes.
National Healthcare with a single payer system, appears to actually be beneficial for a nation as a whole.
Republicans will say "sure, Canadians may think they are richer, but they are not getting the quality  healthcare Americans get.  Actually that is true.  They appear to be getting better healthcare  and getting it with none of the extra expense.  A healthy 19-year-old Canadian can expect to have 52 more years of perfect health versus 49.3 more years for Americans.  Canadians have a universal healthcare service, which is free at the point of care, whereas Americans' access to health insurance is usually based on employment, income through Medicaid, or age through Medicare, and not universal.
There is no logical reason not to have single payer health care:  one it is cheaper; two it is better; three we will have perfect health and live longer;
Here are the reasons against having a single health care provider:  less profit to those who own the stocks.
So, it becomes a balance of perfect health for 53 years for everybody in the country. …..  or……  someone else's bank account growing a little bit more…
Hmmmm. I think having someone else's bank account grow a little more, is far more important to me than whether or not I have a healthy life or get to pull a few extra years to live on this planet..  I will vote for Romney to get rid of  Obamacare.
Of course, expect to hear the touting of …. Socialism is better than Capitalism.
That depends upon your definition.  For you see, Canada has been under Conservative Control for a long time.   Since the 1990s, Canada has pursued a hardheaded (even ruthless), fiscally conservative form of socialism.  It is just that their conservatives are conservative, and not fanatics which has made all the difference.  The argument is still out there that "uncontrolled Socialism" might not have painted as pretty of a picture as this blend of Conservative Socialism has wrought.
The proper name being thrown around to describe Canada, is  now hybrid-economy, meaning it takes the best from both worlds and blends them together.  Sounds like marriage.
As a footnote it would be good to hit all conservatives with this hockey puck right between their eyes.
Classic conservatism aims to minimize government but that is a tertiary priority after one: doing what is effective and two: doing that which is lest expensive. Since the days of Nixon that message has been co-opted by the radicals to a single item: minimize government. That isn't "conservatism", that is fanaticism.
Under classic conservatism life's basic needs are addressed effectively. Then the most efficient system is sought so the needed quality can be delivered at the lowest price. A true conservative will support a government program if such a system delivers the quality most efficiently. At this point in time, when the nation's needs are being met and cost is under control, only then does the classic conservative oppose government expansion as a point of principle.
Conservatism in America is functionally dead. It has been replaced by propaganda designed to support plutocracy. The American government has been transformed into an engine which pumps money from the general public into the coffers of a very small sliver of the population.
What is called conservatism today has no resemblance to the genuine article. Doing what time has proven to work best is right down a conservative's alley. And in the matter of health care, time has proven that universal access works best and is the cheapest.
May America's true Conservatives have this epiphany and unite with her Liberals against the plutocratic cancer eating away at our great nation.
Footnote: American Conservatives believed in managed healthcare when it was created as the Heritage Foundation Plan; implimented as Romney-care; and tweaked as the Republican Senate's Plan.  There is something seriously wrong with today's Republicans.  Seriously wrong.  They need to go up to Canada and see a doctor.
Lifted from the Occupy Planning Committee….
1. Eradicate the Bush tax cuts for the rich and institute new taxes on the wealthiest Americans and on corporations.
Strong economies have a system that recirculates income throughout the system. The Bush Tax Cuts interrupt that system, by rewarding the removal of excess (profit) and gambling it on riskier items with the potential of superlative returns. Translated: Putting Billions on Animal Kingdom to win, place or show, doesn't create jobs.
2. Assess a penalty tax on any corporation that moves American jobs to other countries when that company is already making profits in America.
This is simple. Raise the wealthy's taxes across the board. Mandate that income earned overseas by American corporations gets taxed by America too. Then, allow a 100% write off on all physical investment here in America. Translated: Corporations will build here, when it becomes cheaper for them to build here.
3. Reinstate the Glass-Steagall Act, placing serious regulations on how business is conducted by Wall Street and the banks.
We tried deregulation. It didn't work. We reverted right back to where we were in the stock crash of 1929 after which Glass-Steagall was enacted to prevent that from ever happening again. Essentially Glass-Steagall says we need to separate our money that we require ourselves to live on, away from speculative investment… If you want to invest, do it by choosing to put your money at risk in an investment firm knowing full well that you could lose it all. However, safe money, needs to stay safe.
4. Join the rest of the free world and create a single-payer, free and universal health care system that covers all Americans all of the time.
There is a reason why other nations spend less on health care per person, and have much better results. THERE IS A REASON. One can wish for a lot of things; wish that private health care didn't cost so much, wish that private insurance covered everything, wish that our doctor could keep giving us free samples all the time…. Switching to single payer, if we use Japan as a model, would save every American $4,800 dollars a year. A family of four therefore would see a savings of $19,200 per year…. Imagine what a family could do with an additional $19200 a year plopped into their lap? What's really sad? The Japanese live much longer too… meaning we are paying more and getting nothing in return.
5. Immediately reduce carbon emissions that are destroying the planet and discover ways to live without the oil that will be depleted and gone by the end of this century.
Reducing carbon emissions is good for whatever reason. The idea that carbon fuel usage will deteriorate is not viable. The global energy requirements are growing exponentially. We need to insist that all new demand for power, be met by renewable resources (excluding ethanol). We will still need existing operations to continue just to keep our lights on.
6. We, the people, must pass two constitutional amendments that will go a long way toward fixing the core problems we now have. These include:
a) A constitutional amendment that fixes our broken electoral system by 1) completely removing campaign contributions from the political process; 2) requiring all elections to be publicly financed; 3) moving election day to the weekend to increase voter turnout; 4) making all Americans registered voters at the moment of their birth; 5) banning computerized voting and requiring that all elections take place on paper ballots.
b) A constitutional amendment declaring that corporations are not people and do not have the constitutional rights of citizens. This amendment should also state that the interests of the general public and society must always come before the interests of corporations.
….. and now Steve Newton of Delaware Libertarian is bowing out….
Forgive me for getting some out of order, but his name now goes up on the wall next to those of Dana Garrett, Mike Matthews, Jason Scott, Shirley Vandever, Dave Burris.
All gone, leaving only these few greats are still left: Nancy, Tommywonk, Kilroy, LiberalGeek, Pandora, David Anderson, & Hube.
The era over which these giants roamed was between the elections of 06 and 08. Some started earlier, but these few individuals were the only source of information during that time stamp.
Today, the News Journal has lost its paternalistic viewpoint touting the union of construction labor and developers formerly known as the Delaware Way, and is actually reporting news ahead of bloggers for a change. Likewise today, WDEL has both on its morning show with Al Mascitti and afternoon show with Rick Jensen, steered discussion away from the likes of (who?) Sean Hannity… and Al Loudell has kept us abreast of local politics in ways unheard of before bloggers began typing in their briefs…
So in a way, since these bloggers were successful back then, today they are not as vital as they once were… Many saw their blogs as the only way to get the truth past the News Journal censors, those higher ups who would not publish any truth that showed an elected official in bad light….
Those studying this phenomena will see that there was much agreement between bloggers on both sides of the aisle… It was very rare for this group to be divisive over the prime issues of this state's business.. All of them were for Atkins removal. All of them were for beginning offshore wind in Delaware, … All of them were for the slowdown of work force housing… all of them were for the betterment of Delaware's educational opportunities…
Of course we quibbled on who would become the next president, but that is to be expected… No family lives without arguing at least once…
There were rises and falls among each giant's influence… But at the core of each individual was the feeling that each had a unique insight into the current problem staring us down, and wrote about it with an urgency that turned out usually to be correct… And usually, if agreement was not forthcoming by the first comment, by the end of the comment thread, some form of agreement among the blogger's roundtable, was visible…
As politicians came to realize the News Journal wasn't changing, they began contributing to these giant's pages, giving substance in ways unheard of among those writing for the Community Board of the News Journal… Reading the blogs gave us a real time insight into the workings of our state government in Dover……
But it was the wind controversy that elevated the giants to their current stature… Only the blogs could get the message out that Delmarva was incredibly concerned about losing control of their monopoly, and that wind power for Delaware would by offering competition, lower our energy prices. And they did, so well, that the entire legislature at the end of their 2007 session, voted unanimously to approve of the landmark agreement between Bluewater Wind and Delmarva Power….
Some of us think that they, shaking in their boots, didn't dare vote otherwise… For bloggers have long memories as well as does the public….
But these giants among men, did more than just push wind. They publicized the eminent domain controversy. They scoured local politics. They broke the work force housing pact apart. They clamored against Atkins, forcing him to resign. They dogged the SEU. They picked apart candidates so much that those who had flaws, couldn't win. Dana Garrett could be heard almost weekly on WVUD.. Tommy Noyes, for a while was a weekly guest on Al Loudell's award winning newscast. They OOGAcised the fight for open government, forcing one flustered legislator to call out for a prayer dedicated to just for the bloggers, asking for their salvation of their souls… Apparently those prayers were answered; for by their souls we have open government today….
But amongst the best, the very concept of government was debated back and forth, no doubt as it once was during the beginning of this nation during its infancy… Torture, domestic spying, gun ownership, thieving Vice Presidents, all had their day in court upon these pages….
And today, there are new names who in the years ahead might be considered to be the giants of this contemporary time zone..
Deldem, RSmitty, El "S", Donviti, Cassandra, all came into prominence after the defining moment of passing the wind act…. As well as Sussex Green, Red Water Lily, Mourning Constitution,… all of which became big as the 2008 election season came upon us….
And from the ranks of commentators came a Sussex County Councilwomen, a candidate for a House seat, as well as a last minute candidate who took on Mr. Pam Scott, and began nailing his shoes to the floor…. Miro had a contender for once; that commentator speaks up often…
Steve Newton will be missed.
With his passing is the last of the great thinkers… Today, we have bullets fed to us… But Steve took on all other blogs, all other commentators and wrote posts about them… Steve looked at everything with fresh eyes…. Giants can do that, since they see things from way up…….
I won't go in to praising Steve… for I'm here to call attention to the passing of a era. Perhaps those times when benevolent giants roamed our state, will be considered by us dying men and women, to be the glory times we hark back to, the second we close our eyes for their last time…..
For when you look back as what we've done, the word "giants" is not really a bad moniker….
Is it just me, or do those two candidate's names sound like twitter birds….  Unfortunately there is no twitter site for the Twenty-ninth Representative District, so this post will have  to do….
Again, featuring the best Delaware Voter's Guide ever… we go to the top of the page, click voter's guide, drop down to the Twenty-Ninth District, and click on Charles Paradee.
As is often the case with progressive candidates, the first selection is his campaign website.. I see we are to drop the Charles and call him Trey… Ok, with a quick click on Trey's website we see….wow… Protect, Preserve, Prepare is his motto… He even breaks it down further… Protect Open Space (sounds what Sussex County needs as well)..Approximately 85% of the 29th District lies outside the Growth Zone. Despite this fact, the 29th District has been one of the fastest growing areas in the State over the past decade. As the results of the 2006 Levy Court elections show, the people of the 29th District want elected officials who are committed to protecting the rural nature of Kent County from unbridled growth. Trey will be your advocate.
Preserve the low tax structure (also needed in Sussex County)We need Representatives who are equipped to understand the complex budget issues facing our State and who are willing to make the tough decisions. Trey is a self-described fiscal conservative whose background and experience in finance and small business will serve Delaware well.
Prepare for future development–The future is bright for Delaware… if we make the right decisions! We have to recognize that people will continue to move here as long as our taxes are low and our quality of life is high. Growth will continue. Will we do it wisely or will we fall into to the same traps as our neighbors, leading us to higher property and school taxes.
Fascinating.. (This guy's platform is right out of my post below this one, which advocates what Sussex County must do to save itself from a terrible fate… ie vote Joan Deaver)…There is a picture of him and his hunting dog setting out on the Leipsic River.. Now that is someone we can trust to keep the best parts of Delaware…the way they are now……. Thanks to the Coastal Zone Act I have been remarkably surprised at how many parts of Delaware resemble the way it looked during the colonial area… The view of many of the ships plying up the Delaware River differs little from what those first explorers must have seen. Try saying that while traveling up any other ships channel in the civilized world….
With all the controversy swirling around the Democratic Insurance Commissioners candidate's resume, it is refreshing to see Trey posting his online… How open is that?…. We see UD all the way, and an English major to boot, always a good sign… At least we see that from having lived in Newark, that he knows what overdevelopment looks like, (unlike someone who grew up, went to school, and never left her hometown)….. We see he is familiar with stable duty; which means he already has a pair of high topped work boots to use while dealing with the lobbyists inside the halls of Legislative Hall…Being prepared he will be, as is always a former Eagle scout… We see he worked at Merrill Lynch… oops… oh so that's why he is running for office now…
He is a NRA member and a member of Duck's Unlimited…He's a Chamber of Commerce guy, licensed for insurance, securities, and financial planning….
For those of you outside of Dover who as children used to travel through it on your way to the beach… he hails from the Paradee Gas Company lineage…and…. the dude plays drums…Awesome. (I don't think the blogger's band has a drummer yet….)
On his issues page, the first thing catching your eye is the title…Education is more important than cheap beer… He continues with this: I purchased some beer to enjoy with friends at a cookout. As I left the liquor store, I glanced at my receipt to see that I had paid $4.85 per six-pack of beer. I wondered for a moment how much my purchase decision would have been affected had I been required to pay $4.89 per six-pack. I doubt anyone would notice an increase of less than 1 cent per individual beer. In the waning hours of the 144th General Assembly, House Bill 518 was defeated in the State Senate, days after passing in the House of Representatives. HB 518 would have increased the tax on a six-pack of beer by 4 cents, 10 cents on a bottle of wine, and 37 cents on a .75-liter bottle of liquor. The tax increases would have generated an estimated $4.5 million in revenue for our cash-strapped State. Three hours after HB 518 was defeated, our lawmakers voted to slash $10.9 million from "programs for remedial readers and students who need extra schooling in the summer" and "funding that provides extracurricular academic help, professional support for teachers and school discipline." I am proud that my State Senator, Nancy Cook, had the courage to stand up for the children of our State by co-sponsoring HB 518, and I am terribly disappointed that the current Representative of the 29th District, Pamela Thornburg, did not." Shame on that Pam Thornburg who puts cheap beer before the education of those needing extra schooling. Shame. Shame. (We know how she likes parties)
Other issues… we see he is for open government… (his opponent was one of the few Republicans voting against House Bill 4, much to the chagrin of one Dave Burris..) He offers us his jobs proposal where he arguably points out the ineffectiveness of his incumbent who, in answer to the question what can be done to bring jobs to Kent County… could only come up with one: sports betting at three local racetracks….
Further along he adds: While on the subject of alternative energy, I must also add that it is absolutely shameful how our current legislature has handled the proposed wind power farm. We have an opportunity to attract good paying "green collar" jobs to our State. The development of alternative energy sources is the next great growth industry for our Nation. Delaware needs to get its share of these jobs by providing a business friendly environment that will attract forward thinking
entrepreneurs and businesses.
Here is an inquiry into his family tree. And here is his answer to the News Journal Questionnaire.
Here we see his father owed the city of Dover $800.68 for a sewer tap that was annexed after he had installed it…(I didn't even know they had computers back on September 13, 1965… lol. )
Here is a search engine report for the Heritage Gas Company, (also known as the Paradee Gas Company..)
From here, Google starts getting confused and substituting items with "parade" in place of Paradee.
Here is his endorsement from the AFL-CIO. And here is his PDD endorsement…. I don't know how many of either live in his district…
Ok, Let's Check Out The Other Contender
Click on Pam Thornburg and now we are ready to go.
Pam has an interesting fault.. She has a large wealth of Google data under two spellings of her name..Pam Thornburg (correct) and Pam Thornberg (incorrect).
One thing worth mentioning is that Pam Thornburg has no mention of it, but Pam Thornberg was one of the opponents of the Smoking Ban back in 2002 who introduced bills to water down or delay its taking effect….(Remember… she's a party girl)….Here we have her at the 11th annual Delaware Standardbred Owners Association (DSOA) Awards Dinner at the Dover Sheraton Hotel on Friday, Jan. 11, 2008.
Here we have her lauded for her work with the Career Transition Project in Kilroy's own Red Clay District for those with special needs… Hey didn't I just mention that she voted to cut funding for them? Something like education versus cheap beer? And it was her special project that got budget sliced? Beer IS important.
From beer we go to her official state website… We see she went to high school and college and never left Dover…We see she has been in Legislature since 2000, riding in with Minner, and lists herself as a full time legislator…We see she has oversight of Corrections and she should be answering some hard questions there… since what happened, occurred on her watch…
Here is what she has proudly sponsored…
HB 85 AN ACT TO AMEND TITLE 16 OF THE DELAWARE CODE RELATING TO HEALTH AND SOCIAL SERVICES.
HB 175 AN ACT TO AMEND SUBCHAPTER III OF CHAPTER 31 OF TITLE 20 OF THE DELAWARE CODE PERTAINING TO THE EXERCISE OF EMERGENCY POWERS.
HB 189 AN ACT TO AMEND TITLE 7 OF THE DELAWARE CODE RELATING TO TAX DITCHES.
HB 224 AN ACT TO AMEND TITLE 24 OF THE DELAWARE CODE RELATING TO FALSE ALARMS AND SECURITY SYSTEMS.
HB 452 AN ACT TO AMEND TITLE 7 OF THE DELAWARE CODE RELATING TO TAX DITCHES.
HB 492 AN ACT TO AMEND TITLE 19 OF THE DELAWARE CODE RELATING TO WORKERS' COMPENSATION.
HR 7 COMMEMORATING JANUARY 22-26, 2007 AS DELAWARE AG WEEK.
HR 37 ESTABLISHING THE GROCERY STORE BEER SALES TASK FORCE TO STUDY THE FEASIBILITY OF BEER SALES IN GROCERY STORES.
HR 39 COMMEMORATING JANUARY 7-12, 2008 AS DELAWARE AGRICULTURE WEEK.
HR 46 PROCLAIMING APRIL 21 THROUGH APRIL 25, 2008 AS SMALL BUSINESS WEEK.
HS 1 FOR HB 224 AN ACT TO AMEND TITLE 24 OF THE DELAWARE CODE RELATING TO FALSE ALARMS AND SECURITY SYSTEMS.
Which one jumped out at you?  Yep… me too…
ESTABLISHING THE GROCERY STORE BEER SALES TASK FORCE TO STUDY THE FEASIBILITY OF BEER SALES IN GROCERY STORES.  (I guess the liquor stores close too early in Dover).  That bill was laid on the table only to be strickened upon the opening of the  next session… The Girl loves to party…
So much that only three of her bill got to the governor's desk… 1) One NRA piece saying the state could never confiscate ones firearm in a Katrina style emergency; 2) one grandfathering encroachments on Tax Ditches, and 3) one fining those with false security alarms… But thanks to her… January 7 – 12 was Delaware AG (Attorney General…lol) week, and April 21 – 25th was Small Business Week… Shucks… I missed it…
Next we have the Delaware Task force that was created by Pam Thornburg who sponsored House Resolution 69,, From the minutes we see the task force met two times and then…Rep. Thornburg stated that she did not feel the task force need to meet again.
Next we have project Vote Smart synopsis of Pam Thornburg's voting record… There we see that she did not vote on one of John Atkins bills HB 537 back in 2006, even though she was a sponsor.
We see she voted for the 2008 budget, and voted no on the bill to raise her beer 4 cents….She voted yes to collective bargaining…She voted against increasing the cigarette tax,…She voted against raising the minimum wage from $6.15….She voted yes to prevent state employees from paying dues or fair share fees without written consent….She voted "no" against a sterile needle programs, and against a ban on open alcoholic containers in one's motor vehicle…. (That's what the drive to the beach is for…) and she voted yes to repeal the statutes of limitation on child abuse cases and to ban the exemption of state employees from being charged under those statutes…
Next we have a wonderful little piece of satire describing here role on the House Committee of Energy in its approval hearing on Bluewater Wind's proposal… (Like Charlie Copeland, she fought for Delmarva all the way until the final bill was signed…) The piece is appropriate.
Next we have some beautiful pictures of Pam Thornburg as she performs her daily duties as a member of the General Assembly…..
Next we see that on May 8-9th, 2006, the person representing the 29th district, got to party in some really swank digs… The Greenbrier of White Sulphur Springs.. I hope she got a chance to play a round of golf… It is one of the most beautiful courses east of California…. And if she is ever in jail, her supporters can get "Free Pam Thornburg" signs here…
Here is Pam Thornburg's answer to the News Journal Questionnaire….
Next we have Nancy from Delaware Way's description showing Pam Thornburg as a tool of Delmarva Power in its battle against Bluewater Wind… It would be wise to remember that even after it was proven that Bluewater Wind cost much less than Delmarva could offer from other sources… Pam Thornburg emphatically backed Delmarva Power against the wishes of 90% of her constituency….She is a special interest legislator… (No doubt, Delmarva Power threw better parties, thanks of course to her fellow party-er... Joe Farley…)
In an effort to stifle John Kowalko, (totally ineffective) she used Joe Farley, lobbyist for Delmarva Power to filabuster most of the time allotted for discussion.. More from Delaware Liberal…
We see another party this time closer to home.. December 2-4, 2005. Minutes of the Kent County Transportation meeting from March 2, 2005 .... are here…
Here, much more pertinent, are the opening minutes of the early meetings of the SEU, that infamous board which tried to scarf $100,000,000 into McDowell's hands… and still might… A piece is ready for the new session which as shown last June, is full of some shady dealings…..
We see why she is the way she is… As the state chairman of ALEC, American Legislative Exchange Council, she shares with them a common belief in limited government, free markets, federalism, and individual liberty. Just to name some of the original founders, two of which were Henry Hyde (he liked to party as well) and Jesse Helms… But before we go on… isn't the whole problem we are facing with our economy the result of the policies that organizations like ALEC sneak through our legislative bodies? Isn't what we are feeling this economic session the result of deregulating and not supervising adequetely those in charge of the money… Doesn't it seem reasonable that someone who is so into a failed policy of the past, would do our state much more harm than good?
And then we have this.
And from here we see that the Twenty-Ninth District is split 40% Democrats, 35% Republicans, and 25% other.. The key for both candidates is the other…..
The Inevitable Conclusion
That depends entirely upon you….  however if you want my synopsis, it would be that we need forward thinkers now, and not someone playing around in the past to dally in "little" things… I saw Thornburg in action during the Bluewater Wind controversy and it was scary… Why someone would hurt the citizens under their care, who as you all know were struggling so hard to keep up with their utility payments, support the entity beating them down, and be glib and laugh about their plight sarcastically….  I didn't know people like that ever got elected….  A "small business week" sounds nice, but really…. what does it do…  what does it accomplish… how does it make anyone's life even a little better?
The twenty-ninth district is so lucky to have someone like Paradee who reflects their values, but looks to carry those values into the future rather than return them to the past….  There are some trying times ahead… someone tackling new problems with an antiqued set of tools is not what the twenty-ninth needs right now…  Thornberg's philosophy dates back to 1973… as a nation we have moved on since then…
Every two years the Legislature gets shuffled… (but unfortunately not as much lately as it has needed)… Pam Thornburg has, on every one of the great issues that affected this state's positioning of itself among its neighbors, been on the wrong side…… She was against cheap clean power from Bluewater Wind almost chasing away 500 high paying jobs…… She is against open government; she voted against House Bill 4.  She way back when, was against the smoking ban, in a state with one of the highest cancer rates in the nation for heavens sakes!…  On the other hand if it involves gambling, liquor, beer, wine, cigarettes, open containers in motor vehicles, or any other vice… whoopi… she is all for it…(or so her record would make it seem….) That's the small town mentality…that comes from never opening ones horizons….
One thing is certain.  Someone good needs to fill that post…Someone forward looking, smart, conservative, family oriented, knowledgeable in business, conservation, the locality, and interested in preserving what is best of western Kent County.  Protect, Preserve, Prepare. The twenty-ninth district could do no better than put Trey Paradee into the House of Representatives on November 4th….
"Oh what a great guy… Gee, I'll think I'll vote for him…"
Everyone in public office is a great guy… Human beings who wear their assholes on their sleeves, don't win public contests and therefore, by default, don't move up to the next step. If a person has been elected to an office, then he obviously can come across as a great guy… not only that, he has to…
Because of this necessary trait, everyone who is running for office this political season…is a great guy…. . the 'great guy' characterization on both sides, balances each other and equals each other out… Therefore, it is important to guess what a candidate will do once he is elected into office, based on what they did way back when they weren't in office…
So when Mike Matthews says Atkins is going to win… and bases it on two reports he received from one meeting that took place near Millsboro… since the subject is none other than Atkins, it gets our attention.
This poster gushes that Atkins is a good ole boy and Hastings seems stiff in comparison…
he *Atkins) seems like a genuinely likable guy. he's got the personal "magic" that's critical to campaigning – that ability to joke around and connect with people on an informal level. i don't know if Hastings has it. seems pretty stiff.
Flashback… where have we heard that before?
Bush and Gore 2000, that's where… Two weeks of "Which Candidate Would You Rather Have A Beer With?" and a two weeks of discussing why Gore is stiff ( How do you tell Al Gore from the Secret Service agents protecting him… He's the stiff one…)… and one week talking about his convention smooch (with tongue), mouth to mouth with Tipper…and throughout the first debate: all issues pertinent to our nation, were swept under the rug, in order to discuss the problem with sighing…
I guess then American's deserve what they got… The lesson which should be learned, is that which candidates stand for and who they profess to support, really does matter…. It impacts what happens to you. It makes a world of difference in your next four years…
So Atkins versus Hastings… Some are already taking a page from Bush/ Gore and trying to frame that contest as about being the friendlier person…?
Here, in that cone of silence, are some of the topics that are not being discussed?
Who of the two, is the more moral person?
Who of the two, is the strongest against the cancer clusterfuck NRG?
Who of the two, is an advocate for Bluewater Wind?
Who of the two, is an advocate for better schools?
Who of the two, is an advocate for smarter, not stupider growth?
Who of the two, makes good decisions when required?
Who of the two, is guided by a moral compass, and not by what is best for him?
Who of the two, even cares that mercury lies on NRG's property?
Who of the two, even cares whether NRG kills tons of fish, each time it discharges?
Who of the two, even cares whether women have needs of their own?
Who of the two, believes in open government, and who of the two, has Seacrets to hide?
Ladies and Gentlemen of the 41st… Let's not repeat the same mistake this nation made in 2000 when it elected Bush? We knew what he was going to do… he told us! But we elected him anyway?
Ladies and Gentlemen of the 41st…. Don't do it twice to yourself? Take a moment to think for once… Take a moment to look closely and remember just what went on before…..
When John Atkins was a legislator, he used his position to oppose statewide recycling.
He used his position on the House Natural Resources & Environmental Management committee to oppose environmental progress.
Atkins helped delay the control of emissions from "lightering" operations in the Delaware Bay (Senate Joint Resolution 6).
Atkins helped block "pollution control strategies" for the Inland Bays (Senate Concurrent Resolution 21).
Atkins helped block limits on unwise rebuilding of beach front houses destroyed in storms (Senate Bill 377).
Atkins presented himself to us as the loyal servant of NRG, owners of the mega-polluting Indian River Power Plant, and he is campaigning in support of another coal-burning power plant at the same location.
Even though Atkins chaired the House Corrections Committee he felt that the Department of Corrections should provide only the most basic health care services to inmates. As the crises within the prison health-care system blew wide open, Atkins wanted to keep it under his rug…."I do not favor federal intervention or investigations.
On October 29, 2006, Atkins was arrested for the "terroristic threatening" of his wife after an argument "became physical." ( He contends he was drunk)
Atkins chaired a "Delaware Poultry Issues Task Force" that recommended rolling back Delaware's anti-incineration laws. "Mommy… why does it smell like poop burning outside?"
And one citizen lobbyist, while visiting Legislative Hall, looked into Atkins Office and saw a life size cutout of George W. Bush on display! If there were ever birds of a feather?…..
Will Sussex County go the same way as did the United States in 2008? South?
Not if they elect Greg Hastings, Sunday School teacher and current legislator representing the 41st District, to his second term….