You are currently browsing the category archive for the 'Biden for President' category.
It comes under the heading of GImmicks:
Shopping for the holidays, you pick up an item, scan it with your phone, and BOOM, you can see how much it would save you had you shopped on line… at… Amazon.com…
Great service. The customer has a need for information. It is provided conveniently. The customer can make a decision on the spot.
Gone are the days of writing down prices, walking through 8 stores, then returning to the one with the lowest… It is all in the palm of you hand…
Ahhh, but is it fair for those retailers trying to stay open another year, by capitalizing on the surge of holiday book sales?
AS one enterprising book shop owner exclaimed to the NY Times: "to "everyone who comes in my store. If you let me, I'll get to know you through your reading life and strive to find books that resonate with you. Amazon asks you to take advantage of my knowledge & my education (which I'm still paying for) and treat the space I rent, the heat & light I pay for, the insurance policies I need to be here, the sales tax I gather for the state, the gathering place I offer, the books and book culture I believe in so much that I've wagered everything on it" as if it were "a showroom for goods you can just get more cheaply through them."
Are small businesses who lack the gigantic resources required, put at a competitive disadvantage? Is it morally correct, to allow corporate espionage on a scale that could wipe out all small business competitors in one Christmas season.
Somewhere in Amazon.com, is a listing of every price in every bookstore, as well as a guide as to which books are popular. And no one gets employed to go out looking for that information.
On one hand, businesses have the right to innovation. they have the right to compete, they have the right to outsmart the competition. That is how society moves forward. The weak fail. The strong survive.
But on the other hand, like an endangered species, little bits of Americana, of life as it used to be, those pieces of the good side of life, do not return the next season; it gets worse year after year….
On one hand prices are low now, meaning other things can be bought with the savings.
On the other hand, as we saw with Standard Oil at the beginning of the last century, monopolies do raise prices to levels a lot higher than they would be if they had competition….
It is quite similar to the Wal*mart takeover of America. For one, I love Wal*mart. It is how I find out what's new. But my folk's small town, died the day Wal*mart opened its doors onto the Interstate exit. Understandably. You saved $20 dollars buying the same assortment of items………. back when they first opened that is. Now, with Main Street closed up, the prices are about where they were in the small shops the day before it opened…. All we did was move spending our money downtown, to spending it 3 miles out of town. Whereas the local businesses used to give back both in taxes and in donations…. the corporate giant now sends our money overseas….
Do small businesses have to take this onslaught. "The law has long been clear that stores do not invite the public in for all purposes. A retailer is not expected to serve as a warming station for the homeless or a site for band practice. So it's worth wondering whether it's lawful for Amazon to encourage people to enter a store for the purpose of gathering pricing information for Amazon and buying from the Internet giant, rather than the retailer."
And so, the issue actually moves from economic, to political.. Sort of like the "Buy America" campaign in the 80′s. It involves conceding the economic war; establishing a new front in the form the political war. It becomes a moral issue, and not a price-point one. Do you like small bookstores? Do you like seeing a business open? Do you like establishing a solid tax base for your community? Do you like the option of your son or daughter being hired by someone you personally have known for years….. when they come home for Christmas breatk? If so, then support your local bookstore, and don't buy on line at Amazon.com….
That may work for those politically motivated, which if the past presidential election can serve as a guide, applies to only 61% of us… The rest of us need to save that $20….
If there is any wisdom that comes from watching this past decade unfold, it is this: you have to treat corporations like children; you can't let them have the upper hand… Historians know this. Teddy Roosevelt proved it during the dawn of the 1900′s. You HAVE to break up corporations so they become SO worried about other's moving in on their territory, they don't have time for mischief. You give them time (with no supervision), they'll make mischief. Just like one's kids.
So the answer lies not in boycotts. The answer lies not in public shame. The answer lies not in micromanaging colossal giants…
After thinking about it for a very long time, it appears the only answer is to eliminate them, by breaking them up so they have to compete against themselves.
The laws are already on the books to do it.
It is a simple vote…
Should we or should we not put this man in an administrative function.
Please vote yes…. or no…..
(It should be open cut because a majority have already said they would support Cordray as head of the Consumer Financial Agency.) Just get it done…
But, it never goes to vote. In a motion to stop debate requiring 60 votes, 53 are found….
There is nothing more to debate. Vote yes or no… The argument has been on the table for months… But no… it cannot go forward because the Republican Party (all of it) had 45 members who voted against it…
The agency still has no one at the top to get it rolling. There is no one regulating Wall Street as we speak, simply because the entire block of Republicans, who voters put into minority receivership based on their previous track record, voted NOT to stop debate.
There will be no government until there are no Republicans.
There will be no Congress, until there are no Republicans.
There will be no Democracy. until there are no Republicans.
There will be no United States of America, until there are no Republicans.
(Sad thing this is not hyperbole. This is not campaign rhetoric. This is not hateful bantering. This is what is really happening. Makes a veteran want to cry)
Is this. They take money away from other schools…
The idea of charter schools is Republican at best. You take a school, make it excel, and parents will want to send their kids there. You then close other schools that fail…
The problem that was never addressed, was what then do we do with all those students who for whatever reason, can't get into a charter school.
The answer provided by the Charter School Program, is that we consolidate them into even more problematic, even more underfunded, and even more unstructured environments where if they couldn't learn before, they certainly can't learn now….
There is a maxim in both business and the military. You are only as good as your weakest point. The same could be said for dykes around New Orleans. Having a real strong dyke on the wealthiest side of the city, does little when the water comes in from behind, because you forgot to account for a barrier on the poor side of the city.
That's the problem with Charter Schools…..
Some Charter schools do well. But a lot do no better than public. Charter Schools get to pick their students. If Charter schools had to accept special needs students as do public schools, they would be forced to close…
What Charter Schools do provide, is a haven for parents to send kids so they will not be infested with ghetto values. Pencader School of Business was founded on these principles by Principal Dave Jones. There was no ghetto value along the shore of the Delaware River, overlooking New Jersey.
Some Charter Schools do well. Some Public Schools do well. What both have in common, is a principal who has autonomy to run his school… No DoE's. No mandates by Dover. None of the normal bullshit that politics has laid at the feet of those just trying to help today's youth make it in tomorrow's world.
Another common factor, is that successful schools have community involvement. The community looks up to the schools with respect, and the schools look out to the community with respect. When the community and schools are in line and working off the same page, they are successful; whether private, charter, or public, makes little difference.
It is apparent after reviewing the literature covering both sides of the Charter issue, that the successes on both extremes, have these common values. Good leadership and community support.
It appears current society's focus needs to re-establish those two cores. Good leadership and community support.
The Department of Education needs to bug out of student's learning.
The answer to education is simple.
You need a great reward for graduating students to make learning worthwhile. My generation was motivated by the fact that we would one day be paid based on how well we achieved academically. That was a lie. Today's children know it by 2nd grade.
Second, you need a great reward for educators and principals to achieve the impossible. People rise to the occasion presented. A simple $20,000 bonus if every child in your class, simply met objectives, with $1000 minus off for each of those that did not, would certainly fix education in one year.
Third, you need to give principals autonomy. Their bonus should be $200,000. Then, you rank each principal on the percentage of teachers he has, who received the full $20,000 bonuses…… IF his salary is dependent on how many of his teachers get their full bonuses, his primary goal, will be to work with every teacher for that endeavor. Not as is currently proscribed, working against them…
If every student, every teacher, every principal is working diligently for the same goal, you will not need a Department of Education. You will not need Governmental Interference.
You will need structure (prisons) for lost causes. You will need school transportation funding. You will need upkeep on buildings. You will need new technology. You will need investment in music, art, and drama. You will need investment in sports.
School defines who we are. Cutting down our options, diminishes our future potential.
Mankind can do extraordinary things. We have, when the needs have arisen, done so… Just this tiny bit of money, placed in the right investment category, can change the entire scenario of a failed school district, into a thriving one.
Pondering over Steve's return and the ramifications which came with it, (for example, I noticed the re-humanization of Dana Garrett), I was reminiscing why so many bloggers had fallen off the wagon…
Back in the glory days, there was a rather eclectic collection of men and women who put their thoughts down nightly or almost on a regular basis. A few are left today… But missing are Mike Matthews, Shirley Vandever, Tommywonk, Dave Burris, Dana Garrett, Duffy, Maria Evans, Joe M., Mat Marshall, …..
Most all of these posted their reasons for giving it up…. and they all sound the same. Tireless demands of time, no real feeling for posting anymore, realization that it was a lot of hoopla and little real substance.
And ironically the more successful you became the more time you felt you had to spend answering comments. And for the amount of time spent, the numbers of people actually reading them, were dwarfed by just the voting totals of Delaware alone.
But it is with Steve's return that I think I finally was able to put my finger on just why the blog-world fell apart. It was because we had stopped becoming a community. It is rather interesting to read something someone posts that says: I think thus about this subject and here is why…. It is less interesting to have a blurb saying: "check this out" and then click a video and sit back waiting through the commercial….and then after watching, think: "that was a waste of time…"
Each person had a personality. Shirley tried portraying herself as a crusty curmudgeon but she was anything but…. Dave would bluster about, but then, without warning come through with brilliance. Mat, provided a odd twist from the enlightened eyes of a Cab Calloway student. Donviti was … well Donviti..and that's a good thing. Hube could on the turn of a dime, surprise you by agreeing with what you said. Kilroy roasted Red Clay school district, no doubt causing them to cringe with his misspellings, and put New Castle's school troubles on the map. Duffy always found the most eclectic random findings, and mainstreamed them for the rest of us. Nancy, with her sources, and emails, provided the bulletin board for all of us to snatch our next story from… Coupled with airplay on WVUD,WHYY, WMGD, Al Mascitti and Rick Jensen, actual influence over current events was projected… or at least it felt that way…
What we had was a community. And that peer group was who you wrote for. Sometimes you wrote evocative pieces just imagining Hube reading it and reddening his ears. Other times you could get Nancy's gander up, just by praising Chris Coons. One out of this group, even considered running for Governor, and probably should have, considering the complete tanking of the campaign by that person who did run.
But mostly, we wrote for each other… If other's wanted to read they were welcome. I think some who tried to fly too close to the sun, and write like they were the News Journal, got burnt out, and dropped by the wayside.
It is interesting to see the change in both Hube's and Delaware Liberal's format, comparing todays with yesteryears. Today, everything is bite sized. Before, we had the extended version.
The difference is like eating crackers off the table in back of the meeting room, or, breaking for dinner. Taking a break for dinner, is much more enjoyable.
All great moments pass. It is fact that we look back on them in admiration, that makes them great. So, I guess, though the characters are still alive, and a few still active, we cannot return to those times, long ago and far away.
I can only hope that a new generation, may someday read this, and happen to come across something like this, and find inspiration within themselves to do it again….
I think it is safe to say, we "pulled it off big time". We really did something, which in it's time was unheard of, and what we did, still has lasting ramifications rippling through our state government today…
I think most of the problems we dealt with, got fixed. Although no one can point to us and say we did it, that we influenced the changes, they certainly can't deny. After all, each and every one of those problems haunted legislature for a quite a long, long time, and.. they are gone now. We exposed them for what they were…
With that said and done, … it's pretty cool.
Eric Cantor was tipped off early that the firm of Standard and Poors was going to devalue the dollar, irregardless of whatever deal they came up with.
Prior to the devaluation of America's Treasury bonds, Eric Cantor had sent a letter (how did he know…), warning the Tea Party Republicans that pressure to raise taxes would be ratcheted up by the upcoming Standard and Poor's devaluation….
He was right… Thank goodness, after 12 years, with this devaluation, we are finally starting to hear a few of the common sense arguments on the main stream media, that illustrate for all… that raising taxes to "now" be our best economy grower.. .
If you read Standard and Poors correctly, their report implies that the Tea Parties line (the one about NOT raising taxes), IS the primary obstacle that prevents the fixing of America's debt problems… By implication, that makes the election of Tea Party candidates, the sole reason our bonds were devalued. (On the other hand, according to the ratings agencies, Obama receives high marks for his part in trying to make a better life for all Americans.)
In a secret email, Eric Cantor says…..
"Over the next several months, there will be tremendous pressure on Congress to prove that S&P's analysis of the inability of the political parties to bridge our differences is wrong. In short, there will be pressure to compromise on tax increases. We will be told that there is no other way forward. I respectfully disagree." Eric Cantor
He knew well in advance…
He continues….
"We have said from the beginning of the year, the new Republican Majority was elected to change the way Washington does business. We were not elected to raise taxes or take more money out of the pockets of hard working families and business people. People understand Washington can't keep spending money that it doesn't have. They want to see less government – not more taxes.
Back up: we were not elected to…. take more money out of the pockets of hard working families and business people……..
No one said anything about more taxes for the 99% on the bottom… At issue is how much to tax the 1% on the top…
Taxing the top 1% at a marginal rate of 40% and increasing capital gains taxes to a rate of 40%…… actually PUTS MORE MONEY BACK INTO THE POCKETS OF HARD WORKING FAMILIES AND THOSE BUSINESS PEOPLE RUNNING THE ESTABLISHMENTS THOSE FAMILIES CHOOSE TO PATRONIZE……..
So you see, Mr. Cantor.. Raising taxes on the top 1% is not a conflict of interest for you… You said so yourself….. We'll support you in not raising taxes on the bottom 99%…
Raising taxes on just the top 1%, is good.. WHAM!!!!! It jump-starts the economy…. Whereas,….
Cutting taxes for the top 1%, is bad… We all know this is fact. You don't need me to explain it; you know just from living through the past 12 years of the Bush Tax cuts… The last 12 years have made the Clinton Tax Hike Years in comparison, seem like the true Guilded Age..Gosh, it seems like so, so long ago, when everything was perfect.
The Bush Tax cuts, collapsed the economy…..
Tax Cuts kill jobs. Always have… always will….
(but what is really, truly, profoundly sad, is this exhortation from Eric Cantor) "When given the choice between bettering the American economy, and getting more Republicans in power, you better vote for getting more Republicans in power…Our new motto: F*ck the economy!")
In today's political world, the embattled progressives are ironically in the same position American forces found themselves in Afghanistan around the time Obama was sworn in………
Things do not seem to be going well at all….
They did not get the Bush tax cuts off the books. Those tax cuts are still sending jobs overseas. They did not get single payer health care; insurers still limit health care. And now, many of the federal programs supporting the economies in their districts, are about to be eradicated….
"If only" Obama had stood tough!.. "If only" Democrats were better negotiators and didn't give up everything at the drop of the hat… "If only" the Democrats worked harder last December to get the Bush tax cuts not reinstated. "If only" Democrats hadn't lost the House last election, things would be different. "If only" Obama hadn't sold us out! "If only" Obama had a spine. "If only" Democrats hadn't caved and given Republicans 100% of what they want…"If only" the media would educate the public. "If only" truth was allowed on the airwaves….
The Progressives should not base their future strategy on "what-ifs" and "if only's" as Progressives (especially here in Delaware) are prone to do. Such an approach is not "reality-based."
It is instead, "hope-based", which is to say in reality … "illusion-based"…
The illusion persists that Obama can "make" Republicans do what Progressive want. It equals the illusion that the US, can "make" the government of Karzai, do what everything we want…
In both cases, both progressives and the US, can't force the issue. Instead, what they have to do, is out-argue, snuggle-up, and win the battle of the minds; they have to convince the respective populations that if they follow their way, the population will be better off.
With this bill, we now have a "reality" to assist with that convincing…
The core of all the arguing, is the hypothesis that America needs to tax it's wealthy a little more.
When American's go to the polls in 2012, they will have begun to feel the effects on the economy of what happens when one cuts $100 billion a year. Just like the balanced budget deficit bill of 1937 pushed America back into depression, so will this bill.
Progressives need to be out there saying, "We told you this would happen; see? We were right all along; all you have to do is tax the wealthy and this all goes away….."
Unfortunately (or rather fortunately), there will not be a World War III to pull us out of this next upcoming depression… We will just have to spend Federal Dollars as if there was one. Which means, we have to return to the top marginal tax rates of 1941 – 1945…
So yes, there are no new revenues in this bill. Had there been, the reality would be that the House would have allowed a default.
But the argument can now begin… anew,… starting tomorrow! That increases in taxes cause an increase in jobs….. Had another default issue been allowed to occur again before the election, that argument would have been held hostage once again…
Now, it can't… It can't…. The argument of "good taxation" will get out there. This future election will be all about job creation…..
The Tea Party and Progressives both make the same error. They feel that holding another side hostage to get their way, is acceptable. That is not how America works. Often we fail, to remember that America is the one who put the Republicans into the position they did. Likewise, it was the Americans who put Democrats in the same position, two years earlier.
This argument needs to be played out over the course of an election cycle. The Americans themselves need to weigh in on this argument. Each side must argue their case.
It comes down to Clinton's way… versus Bush's…..
Start changing minds.
It has always been a dream of mine, ever since Gingrich destroyed the camaraderie of Congress with his bombastic attacks, that one day, both sides would give the press a collective F*ck You and begin to work together……..
The press instigates many of the adversarial relationships… Framing questions, reporting sound bytes without mentioning the context in which they were uttered.
So, as you know, the two principal players were Eric Cantor, and President Obama. Obama's role was mostly filled by Delaware's own Joe Biden…. affectionately known in here, as Seabiscuit.
Personal relationships are how things happen. That doesn't make good copy, so the press tries to find differences and drive wedges in to split them further…..
On would be shocked, shocked to hear something like this went on….
"I think the success of these talks thus far is due to the vice president and the way he has conducted the meetings," Cantor explained.
"it's been a great, pleasant surprise" to work with Cantor. "The guy's as smart as hell," Biden said, adding that Cantor has "been totally, completely straightforward and sincere."
(Btw, just how smart is hell? On Google, I can find no reference!)
Elsewhere in the House majority leader's comments on deficit-reduction talks he praised to the Times-Dispatch, the panel led by Vice President Delaware's Joe Biden.
The commission had identified a possible $1 trillion in cuts. Cantor cited the seriousness of the endeavor and the civility of the tone mentioning "this is how the political realm ought to function".
Remember Dick Cheney?
Duffy is God's answer to a prayer.. I miss the old days of blogging when we were debating principals instead of people… Duffy has stuck to the old line of debating principals with facts, and that is what makes him special in the eyes of bloggers everywhere…
Since the passing of Steve Newton, he has been the only one to challenge me in any argument, and usually some pretty good stuff comes out of both sides during the exchange… I have respected that.. Cause once again, opinions mean dick. Facts are what we steer by.. It is my hope that in responding to his challenge that an answer may make itself apparent.. Who knows? It may not come from me… But if I'm the catalyst for bringing it out in the open, then… none of this was in vain..
Why I like to debate Duffy is simple.. Neither side, he or I, is concretely set in their opinions… We accept it when the other side makes sense… I usually go into such debates having no idea where they'll end up… I hope the rest of you enjoy the ride as welI….
That said..
Duffy leads: Wall Street's problems were caused by Fannie and Freddie loaning money to people they knew couldn't pay and moreover, forcing banks to lend money to people who couldn't pay. That was not deregulation but misregulation
kavips rebutt's:Uh… Mr. President. That's not entirely accurate.
First off, the Community Reinvestment Act of 1977 was developed for, and locked in on, urban developmental areas and had no part of the subprime boom, which primarily occurred out in western desert regions where owning 4 to 5 investment homes was normal… Those homes were overwhelmingly funded by loan originators NOT SUBJECT to the act… We all know the crises was not because people couldn't afford a payment on their house. It came about, because with no occupants, people could not afford the payments of 4 to 5 houses….. Instead of one loan per borrower turning up in default; four to five were.

Second off, The housing bubble reached its point of maximum inflation in 2005.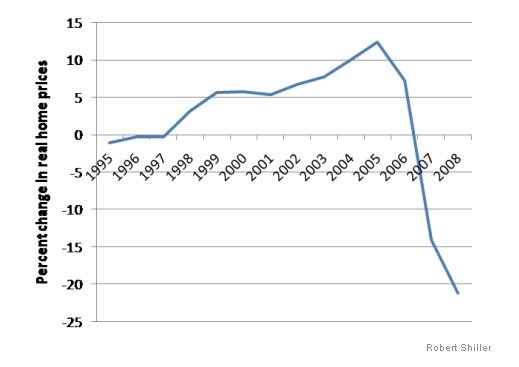 Courtesy of NYT
Third off, During those exact same years, Fannie and Freddie were sidelined by Congressional pressure, and saw a sharp drop in their share of loans secured by the Feds… Follow the dotted line on the very bottom of the graph…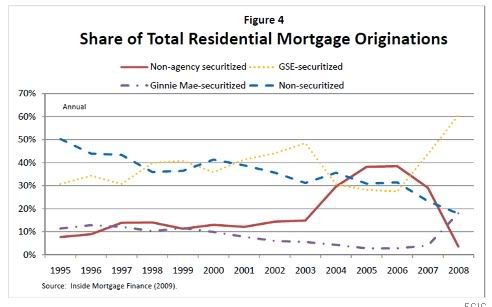 Courtesy of NYT
Fourth off; During those exact same years, private secures, like Delaware's own AIG, grabbed the lions share of the market.


Courtesy of NYT
Remember these graphs for later on when I discuss the results of deregulation, versus regulation… But like it or not, these graphs conclusively show that private insurers, who thanks to Marie Evans, we now know were deregulated by Phil Gramm in the 2000 Omnibus Bill, were the primary cause of the worlds financial collapse.. Probably put best by these words of AIG's spokesperson, who when asked why they didn't have sufficient funds to cover losses, said point blank, "We were deregulated. We were no laws requiring us to keep any funds, ..so we spent it…"
Duffy leads: The loosely regulated hedge funds escaped this mess largely unscathed. Why? They can't count on a bailout like the big banks. The Too Big To Fail banks were counting on a bailout (not unlike the S&L bailouts which started on the Republican's watch) and they got them.
kavips rebutt's:Uh… Mr. President. That's not entirely accurate. I agree that the hedge funds did survive better than the banks. Not because of bailouts, but because they sold short during the crises and made billions while firms closed and people got thrown out of work. There is nothing wrong with that; I did the same. In fact close readers may remember my warnings that the crises was impending almost a year earlier. Very close readers may remember my telling them exactly when to sell, and at what point the stock market would rebound… I must say: I called it rather well.
"Hedge funds were not in my understanding, at fault in the credit crisis," said David Ruder, former chairman of the Securities and Exchange Commission. "At the most what they did was to sell securities when some of their investments were declining and they needed to have liquid funds. They were not the architects of these problems."
De regulated hedge funds are not the issue… De-regulated, excessively leveraged, mortgage securities, are a different story however… They, not the banks that held them, are the cause of the crises…Years from now, when academics search for causes of the stock market crash of 2008, they will focus on the pivotal role of mortgage-backed securities. These exotic financial instruments allowed a downturn in U.S. home prices to morph into a contagion that brought down Bear Stearns a year ago this month – and more recently have brought the global banking system to its knees.
Where you err is when you state that banks too big to fail, assumed they would be bailed out… By implication, you say imply they failed from squandering money, and wanted the bailouts.. But your tax dollars didn't flow directly to the bottom line.
The roughly $200 billion the Treasury Department has handed out to battered banks was swapped for a special class of stock that pays a 5 percent dividend (rising to 9 percent after five years.) As of April 15, the Treasury had collected about $2.5 billion in dividend payments on its investment.
So in that sense, the bailout money represents an expense for banks. That's one reason a number of banks have said they want to give the money back as soon as possible.
You say big banks were counting on a bailout, and they got them? That didn't happen to these banks. New Mexico, Georgia, and Florida each lost a bank just last Friday. That brings to 8, the number of banks failed in June. Unfortunately if a bank is failing, it can't bet on itself to fail, as can a hedge fund.
Duffy leads: Banks have successfully lobbied to get their losses absorbed by taxpayers and gains are kept private. How nice for them. They felt comfortable making insane gambles because they knew they'd be bailed out. Most of them were right. Also remember that it was Bill Clinton who tore down the wall between retail and investment banking. The idea was to give banks more stability as they typically perform as exact opposites in bull and bear markets. (FWIW, I think that was a good idea and I can tell you first hand that two of the Fortune 100 banks I worked for were carried by retail banking in bear years. They may not have had bonuses those years but they didn't have layoffs either)
kavips rebutt's:Uh… Mr. President. That's not entirely accurate. The idea is that the banks made bad decisions knowing taxpayers would bail them out is the issue that is inaccurate. For the record, I have no qualms that it was the Clinton legacy who tore down the wall between banks and investment banking. Like you, I feel it was a good idea to do so… Again the problem was not primarily with banks making loans to people who could not pay.. Although, it was as late as October 2009, when I was made aware of one private Bank in Denver still exaggerating income to make loans look good enough on paper to get approval of securitization. What caused the collapse was the leveraging of those loans as securities, so that as the housing market became overextended, and the ARM jumped past the low cost opening years, the damage was 100 times worse because of leveraging. What made the collapse criminal, was that the insurance most financial institutions had bought from AIG, to cover such an improbable event, had already spent by that companies executives, out on bonuses to themselves. What made it doubly criminal, was that when they received government dollars through a taxpayer bailout, those same executives assumed it was to first go towards paying their bonuses again. However, very recent events may give some cover to the argument that some collusion was implicit in the bailing out of Goldman Sacs and AIG… Basically, once bailed out, AIG paid Goldman Sacs for shares twice as much as they were worth. The documents also indicate that regulators ignored recommendations from their own advisers to force the banks to accept losses on their A.I.G. deals and instead paid the banks in full for the contracts.
Very good news. Credit card delinquencies are way down... and not for reasons you might think…
Since the Democrats passed Joe Biden's recommended legislation that regulates Banks from moving things around internally to create and cause the delinquencies, there are much fewer of them. Go figure.
Almost exactly as when the price of gasoline dropped from $4.25 to $1.40 in less than two weeks because the hedge funds collapsed, we now have proof that the money we were throwing away at credit card companies, was only because there was no regulation governing how and in which ways, those balances could creatively be determined.
Now that we have regulation…. we have financial sanity and another very good reason to vote every Republican out of office…
Don't take my word for it, … trust Fox News… Even that Republican spokes-organization, is now saying that Republicans cost average-American's, a accumulation of billions of dollars spent unnecessarily ….
Evidence is mounting daily: Democrats good. Republicans? … not so much….