You are currently browsing the category archive for the 'an actual good Republican' category.
Today is School Board Elections…Polls are open 10-8…  If anyone is sponsored by Markell or Rodell or RTTT or WSFS, don't vote for them.. If anyone is sponsored by DSEA, they are on the students side. They are safe.
So go out and vote like a goat… Be…  B-a-a-a-a-a-a-a-a-a-a-a-a-a-a-a-a-D
Today at 2:00 the vote will begin on House Bill 75. .  It will replace Delaware's Civll Union law with that of marriage.  For gays it is the end of a long hard fight to gain respectability; after all the jeers, self-loathing, insults, hurled their way, they are human in every regard known to man. The last distinction will be dropped.
This moment will also determine the future of the Republican Party.  Those that vote no against this proposition, will wear it around their necks indefinitely.  Times are changing and Republicans have only two options left…. They can be known as being one who opened the door, or as one on the other side, trying to block it and keep it shut.
History is not kind to those on the wrong side. The Herbert Hoovers.  The Richard Nixons.  The George W. Bushs… That is the side on which you will be.  Particularly if you staked your vote on doom and gloom arriving at our doorstep, and nothing happens,  Your past words will get thrown back at you every time it helps someone else get ahead….
But what if Republicans voted for it unanimously?  What would happen if the Republican Party also said Yes to HB 75?  it would electrify the party.  Republicans would no longer be the footstool that gets kicked around because it is always in the wrong part of the room.
If Republicans voted yes to HB 75, there would be no reason NOT to vote for Republicans in 2014.  All the stereotypes would shatter as if in a thousand pieces of glass… All that old baggage that hits you squarely on the head every single time you campaign, wouldn't be there…
People for the first time since the 90′s, would see you as human beings who are individuals and have the thoughts they do, not because the are injected with a chemical, but because those conservative thoughts make real good sense…
Once you get a reputation, small changes don't change it.  It takes something really big, huge, to shatter an old reputation and be seen in truth for what you are….
This is that opportunity for the Republican Caucus.  You are Senators.  You vote for your constituents as well as your state.   What is morally right is unquestionable here.  Single sex marriage hurts no one and is the only fair vote possible.  What is questionable, is your courage to accept it.  Correct me if I'm wrong, but all of you have staff or friends of family who are gay.  You KNOW the stuff being said against gay marriage is crap…
Do you have the courage to do the right thing?  Of course you do.  You are Republicans in a Democratic state… You have tons of courage.  But do you have the will to unite in solidarity and have the entire Republican caucus vote Yes to single sex marriage?
If you don't, it will haunt you till the end of your days….
Does anyone remember Senator Robert Byrd, longest serving US senator in history?   Well, every time he was introduced on television while alive and even at death, it was always accompanied by the acknowledgement he was once a Grand Dragon of the Klu Klux Klan…  He long ago apologized he was wrong, but that option had made great sense to him at the time.
Remember this, as you vote.  History is fickle if it doesn't go your way….
Conservatives in an attempt to stave off making their guns illegal, have put together a rather good bill.  One that treats guns like we treat cars….
The idea is simply that by making gun owners more financially responsible for the outcomes their firearms may or may not produce, would make them better citizens….
Here are the salients.
The insurance should follow the gun not the owner…
Insurance should continue to cover guns that are lost, stolen or diverted…
The insurance should be No-Fault….
There should be a means to find the insurer of a gun…
Just when I think Conservatives are toast, they come through in a clutch. Private control of weaponry can achieve the same results as government control, without flipping on the libertarian switch existing in many of our backwoods residents…..
The bill is HR 1369…
It is time to sanction gay marriage.   Gay marriage is different from civil unions. Gay marriage means much more.  Someone who is gay, who can now be married for life is finally an equal citizen.  Without that certainty the rest of  their rights are meaningless….
"Oh, we've got nothing against gays!.  You are equal to the rest of us, except, snicker, snicker, when YOU marry, we will give it a lower second class status and call it a civil union."
Until Gay Marriage is made legal gays are only second class citizens….
It is interesting that very conservative parents of gay children, see it with open eyes… "Yeah, why can't they get married?" Senator Portman who was flirted with as Romney's running mate, and the odious Dick Cheney are both in favor of gay marriage. They credit their openness to learning from their children… every parent wants their child to be happy.
As a nation we've been here before.  Blacks were given freedom by the Federal government, but local governments who disagreed, would not allow them to marry whites.  Obviously the signal being sent was no, they weren't equal after all.  Mexicans in the West, legal and forced to be accepted so by whites, had to deal with local laws disallowing mixed marriages… After all, they "really" weren't equal, not even close?."  American Indians, even though there were many interracial lifelong monogamous sexual unions during the exploration of our frontier, those unions were banned by laws intent on maintaining the purity of the Caucasian race, "Indians, equal with the white man?  Get real!"…
All these laws have fallen away, shredded by common sense and common decency.  It it easy to label a group with which we have no connection, as a "they" and say "they" are different, allowing it to be "ok" to treat "them" with disdain……
It is when "they" become part of "us" and we finally realize that treating "them" with disrespect is exactly the same as "us" being disrespectfully treated; we certainly would find that to be unfair. …
It is upon that realization, that discrimination against them…  finally becomes unfair….
Our Constitution and Declaration of Independence are pretty clear…   all humans are equal at birth… and once we widen our perception of what is human, we are forced by our beliefs to accept them into our family as well….
Hard as it was for the South, we finally accepted that slaves were human beings, and therefore agreed they should be afforded the same protection as their owners….
Hard as it was for mankind, we finally accepted that women were human too, and therefore agreed they should be afforded the same protection as their "owners"….
We later had to revisit the treatment of those whose ancestry derived out of our former African slaves, even to the point of guaranteeing them by law, actually making it punishable to treat them with disrespect, in order to drive home this point to Southerners, that…. all people are created equal….
Any baby born within our borders becomes a citizen.  Whether its parents are or not… They were born here; they are equal to the rest of us…  We allow any baby to grow up and marry any other baby who grew up here, unless they are gay.
The overwhelmingly majority of our culture has recently come to the realization that people who are gay, are created that way. They can change it no more easily than one can molt the color of  their skin, or alter the slant of their eyes, or raise or lower their cheek bones…  That is how God makes them…..
For anyone to vote no against Gay marriage in Delaware's General Assembly, they will have to first  imagine themselves in a Twilight world, one where genes gave dominance to gays, and heterosexuals occurred rather rarely… Being one of those heterosexuals, who had deeply fallen in love with someone of another gender, would you, a Delaware Representative, settle for only having  civil unions for you and your heterosexual spouse, when all the gays around you were getting married and raising families?
Their gay clergy would spout:   "Oh, you are one of those… We can't let you marry…."
If you  CAN'T  IN  GOOD  CONSCIOUS  agree that you yourself should be discriminated against because you happen to be heterosexual in a gay world, something you were born with and couldn't change, then you cannot vote AGAINST gay marriage when it comes up for a vote with any good conscious.
Voting against gay marriage, carries the same moral price as did the voting against the freeing of slaves, as did the voting against allowing women to vote, as did the voting against letting blacks finally be allowed to succeed….
Now, since all of those are so much woven into the fabric of our society, we forget today that back then there were people who actually argued vociferously against allowing these citizens to become  equal members of our society… it was just like people argue against gay marriage today.
They arguing were wrong then.  Those same people doing it to gays, are wrong now….
Settling for Civil Unions instead of marriage is a slap in the face.  It has only one point and that it to say:  "Oh, you aren't as good as us, and never will be."
Each time in our nation's past, it took the will of strong people to overcome the strong wills of weak people…. Delaware needs to allow gay marriage, simply because not doing so is the morally wrong thing to do….  Those crying against it with self thought-up platitudes, will come around eventually after the deal is done and the battle is over…
They have to!… One can only argue against what is right, … for so long.
There is a lot of mistrust between teachers and the Race To The Top administration.
Most of that comes down to testing, and evaluating a teacher based on her students.
One might think that would be ideal.  If you don't teach well, you shouldn't be a teacher.  "You are the weakest link,… Goodbye!"
However with teaching is it not so easy.  I'll give you one example, which I sincerely hope never occurs.  It is so horrible, but it demonstrates a weak link in the process so I'm using it as an example anyway.
If you are the teacher, and every day your students get sodomized while they are at home,  how can anyone teach with that?
"Oh, she's a bad teacher; look at her test results;  look at her students, none of them are engaged.  They are all in their own little world."  Let's fire this one.
Now do you get it?  How can anyone be a successful teacher in that environment?  You are getting so fired.
Perhaps they weren't sodomized. Perhaps instead they didn't eat the whole time they were away?   Or perhaps they saw their neighbor get beat up on the street, eye hanging out of his socket?  Or perhaps they were kept up with screaming, and sounds of fist hitting faces?
And the next day they are in front of you in relative safety, the memories burning on their cortex, and you are explaining the  executive branch of government….  "Excuse me, I (the teacher) asked you a question;  if you aren't going to pay attention, you have to leave."  "I ain't leavin"… Yes you are! You haven't paid attention since you came in.  Get out, now, take your books, go to compulsory.  You are ruining the educational experience for all these kids.  What's wrong with you kids these days.  You won't have a future because you won't pay attention; you won't learn.."
(Evaluator watching over the internet notes:  failed to control classroom;  creates incident unnecessarily)…
Teachers can't win, and that is why there is such animosity to this system created in some office by someone wholly unfamiliar with what goes on in a student's world.   They think everyone today is growing up just like they  grew up, white in a small all white town,  with a church on every corner…
Furthermore, because these evaluations were thought-out in an office somewhere, there are a rather large number of inconsistencies.
We suddenly have German  and French teachers being rated by how the Spanish teacher did, because there is no evaluator knowing German or French and tests were not created to measure them.  We have the drivers-ed teacher, being rated by how the Physical Education and Health department test out.
Usually the rubrics used to rate teachers, are 1 – 5.   One thing that could assist in the roll out of these new evaluatory programs, would be  that instead of manipulating data to cover the inconsistencies, you simply put down a "5 rating" anywhere there is something that is out of line.
Teachers are worried they will get screwed.  If you do the opposite,  and just hand out 5′s whenever there is a category that can't be evaluated, much of the anger will ebb and disappear.  Teachers don't want free high scores; they want to show they can teach well.   Putting these 5′s in place of items completely out of their control, alleviates the fear and stress that something over which they have no control, will make them unemployed.
Later, as the fact finders pick through these fives throughout the evaluation process, the inconsistencies become apparant, they jump right out at  you. The following year you can develop actions that match and test those areas in a fair way.
Seeing the problems Tennessee had with their teacher's evaluations,  should Delaware just put down 5′s and announce this policy ahead of time,  would make life so much easier for all involved.
Remember, the total score is not what this accountability session is all about.   Keeping good teachers is what this accountability session is all about….  When kids have good teachers, sometimes despite the problems I mentioned above, … a good teacher can somehow, someway, in a way no test can ever determine,  find that secret hidden passage and finally get through to them…
Yes. Dick Morris is gone and there are no other Richards who prognosticate before a camera….
However there is a rumor that Fox is hiring Scott Brown, who was defeated by Elizabeth Warren for the Massachusetts Senate seat. Scott Brown was in the news because he just two days ago turned down the option which he was polled heavily to win, the Senate seat vacated by John Kerry.
So Fox fired Dick Morris, Karl Rove, and all the "old school" Republicans and is searching and hiring "liberal" republicans instead.
Thing is, if the media erases the Conservative from Conservatism, then liberal conservatives could just well win. Scott did win in a liberal state like Massachusetts.
It appears that is what the big money is trying to do. Make Conservatives look gentile, nice, respectable, funny, and full of love for their fellow man.
It just might work. George W. Bush used that tactic after the most successful Black president we've ever had, up until now.

Courtesy of Party Pals
So why would the most popular Republican, the man everyone wanted to run back in 2012… the man hailed as the Great White Hope of the Republican Party, turn on them and bash his own party?
Easy.
Because his own party is wrong…
He can do more good for all of society by calling the Republicans out for what they truly are, finally, than he could by kissing fat cat's ass and "toeing" the party line.
Chris Christie is just too big to fit in the Republican's suit….
I hope he overwhelmingly wins in NJ because courage to call the Republicans the true dicks* they are, is rare. Voters need to reward him for a) being honest with them, and b) for putting his state's interests over some stupid, made-up, constructed philosophy, that can't seem to function in the real world….
Christie is right; his party is wrong. Get rid of the bad, keep the good.
*dicks as in Dick Cheney.

Courtesy of the NRA
This ad would appeal only to the sliver of those who would rejoice to see Obama, Michelle, or his girls shot dead in cold blood; that extreme group to whom if this would happen,…it would "make… their… day."
Is the NRA's extremism eroding the 2nd Amendments rights for all? It did in New York. The tone-deaf policies of Wayne LaPierre really pissed both Democrats AND REPUBLICANS off up there. As a result, probably due to anger against the NRA more than anything else, New York just exercised their rights under the Constitution and and set the cause of gun rights back 225 years..
It is the NRA's fault.
How?
If someone has a viewpoint on a topic of no concern to you, let us randomly pick….. tariffs on Paraguay, whatever transpires pro or con affects you …. say, not at all… You couldn't care less.
Now say, a proponent of extending those tariffs follows you around, stalks you, and whenever he can get close enough, he punches you in the head. You start to develop an opinion. That opinion is not favorable to extending those tariffs….. In fact, you start to take an interest in purposefully defeating that tariff extension, and maybe get personal satisfaction that it is having such a hard time going forward…
You really have no concern that by not extending them 4 million Paraguay citizens would lose employment and fall into destitute poverty. By your natural inclination (until you started getting beaten up), you probably would have supported helping Paraguayans escape poverty… You are not really mad at the cause; but for some reason you just hate the lobbyist….
After today, card carrying NRA members owning guns in New York 1) should burn their NRA membership card. 2) join the Democratic Party which WILL protect the 2nd amendment, as long as lobbyists for the NRA aren't punching them in the head….
No one can blame New York state for doing what they did after the Newtown tragedy. You should blame the NRA for bullying legislators so aggressively that they enacted even more Draconian measures than would have been effective….
Dragging the president's daughters into the fight, questioning their need for security, suggests that the NRA is slipping further away from the mainstream. Gun-rights supporters deserve a better advocate.
So yes, the NRA is losing it…. Let's review.
After Newtown, LaPierre called for all schools to have armed police officers in place. "The only thing that stops a bad guy with a gun is a good guy with a gun," LaPierre said. We NEED an OK Coral shootout in each of our schools.
A shooting-range app for the iPhone and iPad branded as an "Official NRA Licensed Product" where the targets are children's coffins, was released on the one-month anniversary of the Newtown massacre.
After meeting with Vice President Joe Biden on gun control, the NRA accused Obama of an "agenda to attack the Second Amendment," a gross distortion of the president's position. Please see the mild recommendations Biden proposed.
Now let us review just what the NRA's actions caused in New York, shall we:
TOUGHTEST gun ban in The nation just signed into law
1) Any gun holding over SEVEN rounds- out.
2) Any gun with ONE military feature- out. If you have one you must register it.
3) Closes every loophole on gun shows and private sales.
4) Background checks- mandated for EVERY purchase.
5) For ammo too- Mandated for EVERY purchase.
After spending $17 million this past election cycle in support of Republicans, the New York Republican Senate and the Democratic House, just passed the first NRA Backlash Bill in the nation. More states to follow soon…
The issue is an emotional one; the NRA is firing up the wrong emotions against gun lovers everywhere….
Burn your card. Pay them zero. Donate to the Democratic Party…
These actions are what will finally put thoughtful practices into place, like those done the day before in a completely Democratic state… Delaware under Governor Jack Markell, Lt. Governor Matt Denn, and Attorney General Beau Biden proposed much more moderate policies…
If you live in Democratic Delaware, you get to keep your guns.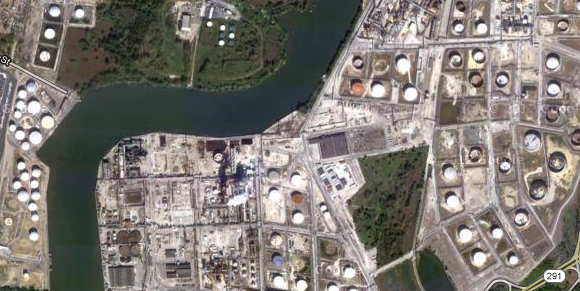 Photo courtesy of Google Maps/ Lower Schuylkill
Kinder Morgan is a pipeline company. It is the fourth largest energy company in America, behind Exxon-Mobile, Chevron, and Conaco-Phillips. Though it was spun off from Enron, a point of contention which many opponents point to, it was started by those who saw to where Enron was headed and jumped the ship in port before Enron began its fateful run. In fact, it employs the whistle blower who reportedly sank Enron. So get that comparison out of the way. KinderMorgan is not Enron. It IS the fourth largest energy business in America.
Which shows how little we really know about it. For Kinder Morgan likens themselves to a toll road. No matter whether the price of gas goes up. or the price of gas goes down, as long as it gets transported by the fourth largest energy company, it makes money. Kinder Morgan transports energy.
Which is why it wants to come to Wilmington.
Big company. Little state. Equals coercion.
Today, most people have no idea what the Dupont reference means in the title. That is amazing and really shows how far things have come in thirty years… Without exaggerating too much, it would be safe to say, Dupont owned Delaware's government, and got anything it wanted. For that privilege, mind you, they loved us and bestowed upon us many gifts, including our double laned highway stretching from Delmar to Philadelphia Pike… now named the Dupont Highway… In all honesty, one of the things that makes Wilmington such a great city, and makes Delaware one of the best states, is the generosity of Dupont bestowed upon this state with the second smallest landmass.
It came with a price. Our toxic waste dumps. Our cancer rates. Our brownfields. These were bought by Dupont's gifts to those running our state. Vote to allow Dupont to dump toxic chemicals on a piece of land and get a museum as a bonus. Really how can anyone say no?
38 years later, no one remembers the museum, except that their school may have went there on a field trip. And that is hard to even remember while busing mom to her radiation treatment center, and taking the kids to AI Dupont for their bone marrow transplants… And with all the Advil you have to take to keep the throbbing bearable in your own head, it is a miracle that you even remember anything..
Choices have consequences. Every marriage has its cost.
It becomes a moral issue, now. Should Delaware divorce the marriage made to its high school sweetheart, the one with a long high school and college courtship? The one both families have gotten used to? The one spawning four children? The one supporting a church, a PTA, the Food Bank, the fight against diabetes, with volunteer effort, because a new suitor just happened to notice you and wants to play?
A big name like Lindsey Lohan wants to marry Delaware. She will bring a lot to the table. The question is, just as if the suitor were Lindsey Lohan, the benefit is very short term. The cost, will be on-going for the rest of our lives…. Is there a chance that such a marriage will work? There is always a chance…… but .. nope. Not in this case.
There will be a Kinder Morgan port with liquefaction plant somewhere on the east coast. It can either be in the Delaware Bay or the Chesapeake Bay. There is so much gas being found in the Marcellus Shale region of Pennsylvania right now, estimates of a massive 100 years worth, that to get a higher price for it one has to go overseas. Europe is starving for gas. Russia keeps turning their supply on and off.
Someone will need a gas port on America's east coast and the cheapest spot is between north of the C&D Canal, and Philadelphia….
A pipeline from the terminal at Coatesville to Wilmington is rather cheap, and with minor adjustments, LNG (Liquid Natural Gas) ships docking in Wilmington will soon carry their explosive cargo to Rotterdam, Hamburg, and Sagunto, Spain. ..
This construction will be done with non-union labor brought up from Texas. Existing contractors with whom Kinder Morgan are familiar. Costs per mile, payment plans are already locked down. Gradually Southbridge with the help of Delaware's General Assembly and the blessings of the next generation of chief executives, will be bulldozed and turned into the next Marcus Hook.
It is inevitable. Europe's lifestream will flow through Delaware. Shipping is not as dependable as are pipelines and storage is a key component… Fill the tanks when the price is low; sell the contents when the price is high.
The Christina Riverfront, will resemble the lower Schuylkill delta. Across the river from the riverwalk, storage tanks will stretch as far as the eye can see……
This deal, that of giving away our port, WILL CHANGE DELAWARE FOREVER…. and it is being done in secret. No community involvement. All hush hush. False innuendos being given instead of details…
Are the details not as bad as the hype? Well, whenever that scenario occurs, details usually are leaked out for the very reason the are used TO SWAY OVER the public… Since they aren't leaking, someone is trying to present a fait accompli.
Speculation is always rampant when there is silence. The best way to combat irresponsible speculation is to release the actual details. Let people know what to expect before the deal is done. Just perhaps, their objections may open your eyes to a possibility previously unconsidered, that could, if found out too late, wreak havoc with our daily lives!
Otherwise Delaware, expect to be greeted early one morning with this… : Kids? I kicked out your Mom last night… I want you to meet your new Mom… Her name is Lindsey. Lindsey Lohan… Everything is going to be just great from here on out!"
This would give me a chance to use the Chuck Hagel category on my blog page. A category is those tiny blue things between the headline and the body of the post. Tacked on at their end is the comment access point, which one clicks if one is to make a comment. I'm glad I didn't exterminate that one when I cleaned up my list last summer… I remember thinking, "wonder if we'll ever hear from him again?"
It was for him I also created the "an actual good Republican" category… That is one that rarely gets used.
I appreciated Chuck Hagel because he didn't give a rats ass about what a Republican was supposed to do, or what a Democrat was supposed to do… He just did it.
Midwestern common sense. We can use more of that.