You are currently browsing the category archive for the 'America's Food Supply' category.
Two big tragedies last week. Two bombs go off in Boston killing a total of 3 people, and a quirk explosion in West, Texas, demolishing a fertilizer plant and killing 14 for which we can find bodies for, and leaving 60 people still unaccounted …
One got unlimited media attention; the other a passing mention.
One shut down our 22nd largest city. The other will be investigated at some future point.
The differences are intriguing.
The Boston Massacre was a textbook case of how to find a bad guy. As Steve notes here, we've been planning for an event like this a long time. Homeland Security produced an army to "invade" Boston in order to find the perpetrators. They shut down transportation, and went door to door. Ironically, despite the effort and expense it was luck that gave them their men. The initial dragnet missed the one in the boat, and only when the curfew was lifted, did the boat owner find him and alert authorities.
What was Boston's cost? Well, add up fuel for all the vehicles, armored cars, and helicopters. Add up all the overtime pay for police, fire, ambulance, and the para military troops brought in. Add the economic cost of shutting down the 22nd largest city for a day… It's so big, I can't even guess. We'll have to wait for the number crunchers with receipts actually in their hands. But particularly with including the economic cost somewhere near a $billion, that means we spent a billion dollars to catch 2 people that were really caught by a) being run over by the other bomber, and b) a man stepping out for a smoke….
But we still, … cost ourselves a billion dollars….
Now. Texas. We had a combined 24,000 gallons of anhydrous ammonia and ammonium nitrate. It wasn't required to obtain a state air emissions permit because it was so old. In 2004 they were supposed to come up and get reauthorized by the Texas Commission on Environmental Quality. "They failed to do so."
Federal documents say the plant did not have required security and safety plans in place. the EPA fined the plant more than $2,000 in 2006 for failing to update a risk management plan. In response, the site's operators told the EPA that the plant posed no risk of fire or explosion. The worst case, plant officials said, would be a 10-minute release of ammonia gas that would kill or injure no one.
The EPA also found that West Fertilizer did not have a formal maintenance program and that its employee training records were poor. In addition, the plant was found in violation of key security measures by the U.S. Pipeline and Hazardous Materials Safety Administration. The agency discovered that the plant had planned to transport anhydrous ammonia without making or following a security plan. Last summer, regulators fined the plant $10,000, then settled for $5,250…. And now we find the fertilizer had 1350 times the legal amount of fertilizer material than it was allowed….
Was too much money spent by government leading up to the explosion? Or too little? Were we lulled by a litany from the Texas Republicans that companies could police themselves, and that we didn't need to spend any money on regulations and enforcing standards? Of course we were. It all started by that guy who once owned the Texas Rangers, who said he would "cut taxes"…
Since we cut taxes we have had multiple issues. And since that time when taxes first got cut, it is easy to see our successes all come about when we, the United States Government, spends money lavishly… When we cut back, we get nothing but trouble with a capital "T"….
So our success come when we tax and spend. Our failures come when we cut taxes and fire, close down, and destroy jobs.
There comes a time when profits get so high, that hiring new people bites into them. WE have reached that point. Corporate profits have never been as high as they are today. Yet we have 15 million underemployed. The hard way to fix it, is to force businesses to hire more people they don't want. The easy way is to tax some of that profit that certainly is not necessary for the businesses' survival… I mean corporations have lived on less since the beginning of time, then hire an inspector who has the authority to close a Texas fertilizer plant when it flagrantly defies the law.
America needs to accept this is how it has to be.
We need things done! Eight years of Bush's neglect plus the 2 years of having the Tea Party corral Congress, has severely damaged America! Putting America back to work, and boosting sales to corporations who benefit from all new economic activity, and using those workers to fix what is broken in America, is a win, win, win situation…..
So at what level should the assessed tax be? It appears that since incentive is a huge part of capitalization, the level of taxation needs to be below 50%. Simply put, if I invest $1 million and lose money on that, what was the point of the investment? Therefore, it appears that after a certain income level ($5 million?) taxes after all deductions should be around 40% of all income earned. If you have too much money, keeping 60% is certainly profitable. ;
Considering our current situation, a) a thriving economy, b) a current 40% tax rate on the top 1%, and c) still high unemployment, tweaking the tax law towards deductions, so that deductions only started after the first 40% got paid, might be the silver bullet that our nation needs, one which will cut the deficit, hire the unemployed, and use both to rebuild America.
We need more money, and we have to get it. Period. All future American successes depend upon it…
Thanks Nancy. Tom Carper sponsored, and Chris Coons endorsed, a bill that shuffles money around the Agriculture Department to keep our food inspectors fully employed.
Our food will not be uninspected now because of the Republican induced sequester. Politics are one thing. People dying are another. The only protection Americans have between themselves and unscrupulous cut-throat foreign food processors, is the FDA. Eliminating them would the the death of us all. Remember the tainted pet food?
I'm glad our delegation stepped up to protect them… However this gave me pause. Where the money was being shifted from….
The Pryor/Blunt/Coons amendment adds no additional cost to the bill. Instead, it moves one-time funding for school equipment grants and deferred maintenance on buildings and facilities at the U.S. Department of Agriculture…
One time funding for school equipment grants, meaning many schools in Delaware which thought they would soon be on the receiving end of new refrigeration units to safeguard school lunches, must now remain using the old pre- 1930′s models currently in place. It also means when the sequester is done, and funds return, their will be less spent on helping Americans, because it will be shuffled to cover the depreciation currently not charged because of this amendment.
When are we going to stop pussy footing around the real issue, and tax the wealthy at the rate of their hero, Ronald Reagan's first tax cut level, until we have paid off our deficit? The middle class should not bear the cost of the wealthy's bad investments. The top 1% should be the first to anti up, and then, only when they have nothing left, should the middle class even be asked to sacrifice…..
America is being spoon fed raw sewage and is then arguing which medicine is better to cover up the symptoms….. Tax the wealthy and all our dreams will come true. America can be healthy again….
Photo Courtesy of  linnprentisliterary.blogspot.
This is tradition. This is the second Pi Day since Tommywonk has not put it up first… Last year it almost slipped past me…. Just for the record and also to help me find them all quicker in the future, here are those of the past….
So Happy Pi Day everyone…. And remember wonks, in just two years, we fill it out further. 3.1415…. Excuse me, but math always make me hungry, I'm going to get some right now… …….
Finally.  The Gulf Stream is weakening.  It has gotten weaker continuously since 2004.  So much Acrtic ice has been turned into cold water, that it now flows down the Labrador Current and hits broadside into the Gulf Stream as it makes it's way to Britain and Europe.  If it ever veers south from the impact, parts of Europe, which is further north than Baffin Island, will get the tempertatures of Baffin Island.
This weakening of the Gulf Streams current strength, causes water to build up higher on the outside of the curve, and to sink lower on the inside of the curve.  The inside of the curve is in open ocean.  It affects no one.  The outside of the curve ranges from Virginia Beach upwards to the end of Long Island.
Pictures show the Gulf Stream weakening considerably just before Sandy.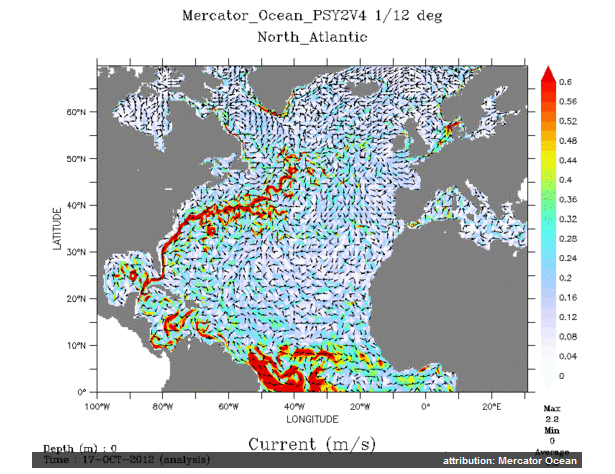 This means water was actually higher and that same higher water was caused by the melting of the Arctic Ice Cap. It wasn't the actually water flowing down from the Ice Cap, but our high water was caused by the largest seasonal ice melt ever recorded.
Here is the report.
This is for real, man. This is scary.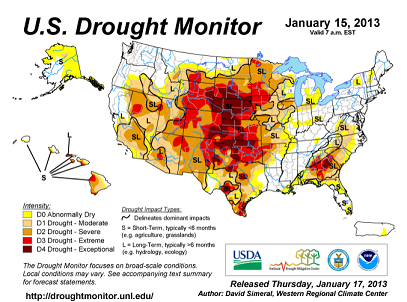 Agriculture Secretary Tom Vilsack today designated 597 counties in 14 states as primary natural disaster areas due to drought and heat, making all qualified farm operators in the areas eligible for low-interest emergency loans. These are the first disaster designations made by the U.S. Department of Agriculture in 2013…
The 597 primary counties designated as disaster areas Wednesday by USDA were in these states: Alabama, 14; Arkansas, 47; Arizona, 4; Colorado, 30; Georgia, 92; Hawaii, 2; Kansas, 88; Oklahoma, 76; Missouri, 31; New Mexico, 19; Nevada, 9; South Carolina, 11; Texas, 157; and Utah, 17. 
The majority are Republican states.   (So..  Let's hold up their "budget-busting" disaster aid for 3 months on high minded principle and see how they like it.)
Wheat growers in the Southern Plains have known the effects of a drought for about 120 consecutive weeks, and now their neighbors to the north have been added to the drought disaster list….
But wait.  The year is only 20 days old!  Disaster Areas? As in Hurricane Sandy?  Yes. Man-made global warming is here to stay.  It is worse than we ever imagined.  It's not just summer anymore.
The 597 counties have shown a drought intensity value of at least D2 (Drought Severe) for eight consecutive weeks based on U.S. Drought Monitor measurements, providing for an automatic designation….
The Drought Monitor measures drought intensity on a scale from D1 to D4, as follows:
D1: Moderate Drought
D2: Severe Drought
D3: Extreme Drought
 D4: Exceptional Drought.
In 2012, USDA designated 2,245 counties in 39 states as disaster areas due to drought, or 71 percent of the United States…
Because of catastrophic man-made global warming, we will pay $5 a loaf for bread. Had it not been for false learning centers lying about data and calling global warming a hoax, like Delaware's Caesar Rodney Insititute, we could have worked to prevent this years ago….. 
Delaware is primarily spared… ironically also by Global Warming.  It seems the melting ice caps are sending a lot more cold water down along the Eastern coasts and that modifies our local climate enough to cause rain.

January 1-3
January 11-13
I getting a bad feeling about this. Who can tell us? What's this mean?
Btw. There is a monster hurricane approaching Alaska with a low of 943mb. Category 4 if it were an actual hurricane. It is so huge it would stretch from the East Coast of the US to Denver.
Sussex County is bereft of republican leadership. Taken over by the tea party then abandoned, there is no structure that supports or represents Republican values still left standing. The Republican Party in Delaware is in freefall.
There are scattered remnants still trying to get on the ballot, but electing one of these would be like a random hand dunked into a pond trying to catch a frog. One could get lucky.
In the absence of Republican leadership, into which void the blog Delaware Politics dares enter, words like philosophy, and phrases like "think like us" get tossed. Those phrases sometimes sound nice but certainly don't bring any money to the bank.
What does bring money to the bank is a strong political party that is on your side. What does bring money to the bank is someone in Dover to whom the party in power is beholden to, who says "I need this".
Jane Hovington is in the unique place to get more done for District 19 than has been done in that District any time since the passing of Thruman Adams. Because she is part of the ruling party, instead of the party of opposition, her vote carries strong weight. She is also because of her conservative district in the very unique position of being one who can build the necessary bridge between Democrats and Republicans. If Ernie Lopez in the neighboring district, needs a favor, Jane Hovington is the one who can get it done.
Her opponent may be a nice man. But he is in no position to accomplish anything for Senate District 19.. As possibly the only Republican in the General Assembly, he is doomed to get ignored. One has only to look to the 41 representative district out of Millsboro, to see a lot more happens there now that their representative who used to be a minority Republican, is now, in the majority as a Democrat. Same man: no clout as a Republican, bringing home the bacon as a Democrat. It is…. all about the party.
"I, Brian Pettyjohn, need this road fixed in my district. It's potholes are swallowing up chicken trucks, they are so deep."
"Uhh, who are you again?"
Now from Democrat Senator Jane Hovington: "If you want me onboard i will need these highways fixed by April 22. "
"I don't see why that can't be done."
District 19 is the heart of Sussex County. Not the play area of the east but the hard working, farming area of the West. Life moves forward on a very thin margin between success or failure. The citizens of District 19, a very beautiful district from Georgetown to the Maryland border, need the best representative they can find.
One hailing from the party of Thuman Adams is far superior than someone who was thrown into the race helter skelter at the last minute by pontificating people, more worried about philosophy, and "their" anti democratic beliefs, than whether you as a citizen can make it or get chewed up. Brian Pettyjohn is "their" candidate.
You deserve better. Jane Hovington, has done very well in answering questions posed by those living in the district. She is in a far better position as a member of the party of Thurman Adams, to make life better for Senate district 19, than a fly-by-night guy thrown into the race at the last minute, whose only support is by the clique of gadflies hovering around the blog, Delaware Politics…
One year ago, September 8th, 2011, the greatest President in our lifetime (you may not agree now, but you will, you will) laid out the American's Jobs Act.
The plan included stimulus spending in the form of immediate infrastructure investments, tax credits for working Americans and employers to encourage consumer spending and job growth, and efforts to shore up state and local budgets to prevent further layoffs of teachers, firefighters, police officers, and other public safety officials…..
IT NEVER BECAME LAW.
One month later, the GOP blocked the bill in the Senate, preventing the creation of more than a million jobs and the added growth that multiple economists predicted would occur if the bill passed…..
1 million jobs, Republicans like Mitt Romney, Paul Ryan, Eric Cantor, Mitch McConnell, and every single person running this election under the banner of Republicanism… cost you..
1 million jobs. One million jobs.
Jobs bills are seeds that usually sprout and give fruit in other jobs. If ten people in your community suddenly get jobs, they will spend some of that in your community. It could be groceries. It could be gasoline, It could be the Indian liquor store. It could be Radio Shack. But they get it. When the government creates jobs, we get the benefit.
Republicans killed 1 million jobs. Why? So Obama would not get re-elected.
Where would unemployment be now?
12.5 million unemployed minus 1 million employed equals= 11.5 million unemployed. Today our rate would be with no additional growth in the private sector, 7.4% (11.5/154.6= 7.4%)
Republicans are the reason our economy sucks. They didn't want Obama to do his thing…. and grow those jobs…..
Here is what others said the Jobs Bill, killed by Republicans so Obama wouldn't get elected, ……
–Moody's Analytics estimated the American Jobs Act would create 1.9 million jobs and add two percent to gross domestic product.
–The Economic Policy Institute estimated it would create 2.6 million jobs and protect an addition 1.6 million existing jobs.
–Macroeconomic Advisers predicted it would create 2.1 million jobs and boost GDP by 1.5 percent.
–Goldman Sachs estimated it would add 1.5 percent to GDP.
Republican Tea Partiers have also cut 700,000 jobs since 2010. Public-sector job cuts also cause job loss in the private sector, for a couple of reasons. First, public-sector workers need to use inputs into their work that are sourced by the private sector. Firefighters need trucks and hoses, police officers need cars and radios, and teachers need books and desks. When public-sector jobs are lost, it stands to reason that the inputs into these jobs will fall as well, and indeed research shows that for every public-sector job lost, roughly 0.43 supplier jobs are lost.
And they blame Obama? Gee, what a great president we have who has to work with garbage and still, does what is right for the American people. 96,000 brand new, never before, created jobs in July…. Surely we live in the times of the "Best President Ever"
If America can just wipe out every single Republican on the ballot, whose party is solely responsible for the crash in 2008, the fall in 2009, the crises in 2011… today's sluggish growth… we would get roaring.
Republicans can do no right. At least when it comes to your money…
Their money? Oh, no problem.. "I'll bet you $10,000 dollars, right here…."
The headlines should read:
OBAMA GROWS 96,000 JOBS DESPITE REPUBLICANS CONTROLLING HOUSE.
Now that, is a proper headline.
Oh, … that explains why I never had a yeast infection….