You are currently browsing the category archive for the 'administration policy' category.

Courtesy demandaction.org/fatalgaps
Delaware is one of the top seven highest-performing states for submitting mental health records.. Comparatively we have compared to other states lead the nation on its rebound from Newtown Connecticut's shooting. The map holds some surprises. Virgina is also a responsible state, proving that being responsible and doing the correct thing, does not impose pain and suffering on regular gun owners…. Texas, Colorado, and Oregon are close, showing that this is not a conservative or liberal matter. This is a common sense matter.
Time to ban high capacity clips and assault weapons since such are sanctioned by everyone, conservative and progressives alike.
I'd never thought I'd write that.  How could anyone in their right mind be against raising teacher's standards… After all it is our kids we are talking about who will suffer….
Exactly,  Passing SB 51 with S/A 1 Amendment attached, will cause our kids to suffer. That's how I can write that. Otherwise I'd be full force behind this bill just as was every senator who voted for it….
You ask, how can raising standards on teachers, hurt our children?
I will ask you back;  "How would you like to take your brand new car you just purchased to Joe The Mechanic's Auto Shop and have him work it over? How could that possibly hurt your car?"
Basically that's what this law does for education. It is as if we passed a law for cars that said every new car purchased had to be re-certified by Joe The Mechanic's Auto Shop.  The entire premise on this auto legislation lies in this one single question: gee, who is Joe?
If Joe is someone who is the world's best mechanic, factory trained by every car manufactured, a man or woman who can analyze myriads of problems by just with listening with a fine-tuned ear, then maybe this bill could possibly be ok.  But if Joe has no knowledge of electronic computers, but learned his mechanics back in the days of steel and oil, and is a complete loss when he sees a car with no distributer cap,  then taking your car that runs perfectly to Joe The Mechanic's Auto Shop, can damage your car pretty darn bad.
And THAT is the problem with SB 51…  We don't know who Joe is….
What we do know, is that our car is purring perfectly, heck we just bought it, everything was tuned at the factory.  Since it is straight from the factory, it is running very well,  no play in the wheel, clean car smell, all items are working, and even our factory tells us to make sure we take it back to a "factory approved shop" for all repairs in order not to void the warranty….  But our government is making us take it to Joe The Mechanic's Auto Shop.… And we still don't know who Joe is?
And we are not too enthralled by all the junk cars piled up in its back lot…….
That is what is wrong with SB 51….
Our great educational  training program that is functioning very well, is going to be tested and inspected by someone who doesn't know crap…
That should scare the hell out of every single parent….
The educational system of America over the last 13 years has been disrupted. Good teachers have been fired, to be replaced with bad ones.  Students used to read literature, and now they are handed "packets" and read test questions. Schools that have been opened for a century,  have been closed…. The educational system is in disarray; a disarry that appears to have been forced down from the top.
We've all been there… The new boss walks in, and yells "things are going to be different now".  Some are excited, some are afraid, but this boss is out of control… He arbitrarily fires, can't hire fast enough, and the  business breaks down.  It becomes broken.  He came into fix, and it got put… into a fix.  So he storms out, blaming all those left for his need to make an exit.  And then everyone is asked to put it back together, and they do, then the next boss is hired…  If you work in America, you're guaranteed to have  been through this scenario.
We are going to do that with teachers?  Who's this guy, Joe again?  Is this test going to be made by the same ones that lowered Delaware's results?  Is this test going to be like those 5th grader tests loaded with 7th grade questions using letters a,b,c in algebraic math?
As that car owner, we have the best educational system bar none.  Delaware educators have among toughest standards in the country. Counting every school, even the most stringent Ivy League schools, the University of Delaware is ranked 37th in the nation. That's ahead of  Rutgers, Temple, and even Boston University. Delaware State University is solid Tier 2 school.
Currently in Delaware's educational programs, only one third make it through the tough gauntlet into teaching. All students graduating from UD, DSU, and WU have passed Praxis I and II; have logged hundreds of hours of observation and additional hundreds more hours of supervised teaching under the watchful eye of master teachers in our public schools. Compared to the standards even 10 years ago, new Delaware teachers graduated by these universities are the best prepared to enter the classroom in our history.
Delaware should be pretty damn proud. Instead we appear to be on the verge of committing a rash act full of unintended consequences. Our head is in the sand. Ok, the argument may go…. "If we're so good, what possiblE harm can befall us if we take our new baby to Joe The Mechanic's Auto Shop?
Apart from the fact that we do not know who "Joe" is or will be when we get there, there are these reasons. The changes in SB 51/SA-1 actually lower some credentialing standards rather than raise them [see the section on now accepting Composite Scores].
Currently all Delaware student teachers take the Praxis One and the Praxis Two. No pass, no teach. These are the factory cars in the educational equation. There are composed by NCATE, National Council for Accreditation of Teacher Education. This is a very solid organization. If you go to their website right now, you will see that they pre-published their accreditation standards for public view and comments. They also dropped Wesley College's accreditation for not living up to the standards.
This bill would replace these standards with ones created by the Delaware Department of Education. Returning to the Joe The Mechanic's Auto Shop analogy, one has to wonder how a 3 year Phys Ed elementary teacher, can do better than a national organization that accredits schools.
Delaware has the 37th BEST teacher school ranked in the nation. And after this bill is passed, we are going to completely gut our entire program out of all we do so well, and have a 3 year elementary Physical Education Teacher rebuild our entire program from scratch….. One who has never gone through the RTTT testing he inflicts on others? One who quite questionably doesn't meet the minimum 5 year requirement necessary to be a DOE?
It's in the bill. that is what it says.
Would we let someone who has never been a doctor create the state's medical certification program? Would we let a non-lawyer create the state's Bar exam? Would we let a manager of McDonalds create our state's nutritional guidelines?
With this administration and this Senate, I really don't know. We just might, based on what I'm seeing right before me!
So, you are saying you would really take your BMW, Rolls, or Cadillac to Joe The Mechanic's Auto Shop to be certified to drive it in Delaware? Wouldn't you be afraid he'd mess it up, especially since it is working rather well right now? Ranked 37th!..
I can hear "Joe" now… "What are all these damn stupid wires for. (Rip,rip,rip) My old Model T never had this crap"…
It's our kids. We can't rush this, and this bill has been rushed far too fast through the Senate. The House needs to slow down and debate this one…
We can't afford to lose our 37th top spot in the nation for which we worked so hard and so long to get….. We got to stop this bill that will make our cars all go to "Joe's" .
There is a dual application of interpretation going on. The new head of the NRA James Porter, an attorney who defends gun manufactures in lawsuits,  is quoted as calling our president a fake president; he once termed the Civil War of Southern Disobedience, as the "War of Northern Aggression,"; he believes that one of our highest priorities should be to train and arm all our citizens so that, when the time comes, they can "fight tyranny" and impose their will upon the rest of the population; who believes white is right, brown goes down, and guns are the way to achieve that end…..
He is now the new head of the NRA, an organization once dedicated to outdoor sportsmen and hunters.
If he were Muslim, he'd be under surveillance for fear of blowing up people at a Marathon.. James Porter's words are more inciteful than any mullah.
Either we back off all Muslims, or we treat the NRA as we would Al Qaeda under Osama Bin Laden….
Not to do so is simply continuing a double standard…..
The NRA … IS  the new Muslim….  Anyone who condones Newtown Connecticut as a great secret United States of American plot is simply put, … untrustworthy. It is time to round up all NRA members in put them in internment camps for observation just as we did for the Japanese during WWII..
To be brief:  it is one of the founding principle of this nation that one has the right to be happy. (That comes of course with the price of not making others unhappy.)  In making single sex marriage legal, one has to look at all options and answer these questions…
Is is unfair to allow heterosexual couples rights not allowed to single sex couples?
Yes, it is unfair.  Anytime there is a double standard, … it is unfair.  (That is actually the proper definition of the word unfair: ie. employ a double standard.)
Will single sex marriages cause any harm to anyone?
No, it will cause no harm.  Whether someone two counties away lives in a civil union or a legally sanctioned marriage will not affect me (or you) one way or another.
There you have it.
Allowing Single Sex Marriages will repair an injustice and will not cause any harm when it is done.
Meaning the only two reasons to vote against it, are because you purposefully want to be unfair, … or you purposefully want to harm someone.
Passing this is a no-brainer.  If we are going to start listening to Christian fundamentalists, then we had better be prepared to listen to Islamic mullahs, Jewish prophets, as well as  every Wikkim candidate for office… Sure they have a right to speak, but we have a bigger right to ignore them.
Passage of this is a no-brainer because it corrects a longterm unfairness without hurting anyone in the process….
Two big tragedies last week. Two bombs go off in Boston killing a total of 3 people, and a quirk explosion in West, Texas, demolishing a fertilizer plant and killing 14 for which we can find bodies for, and leaving 60 people still unaccounted …
One got unlimited media attention; the other a passing mention.
One shut down our 22nd largest city. The other will be investigated at some future point.
The differences are intriguing.
The Boston Massacre was a textbook case of how to find a bad guy. As Steve notes here, we've been planning for an event like this a long time. Homeland Security produced an army to "invade" Boston in order to find the perpetrators. They shut down transportation, and went door to door. Ironically, despite the effort and expense it was luck that gave them their men. The initial dragnet missed the one in the boat, and only when the curfew was lifted, did the boat owner find him and alert authorities.
What was Boston's cost? Well, add up fuel for all the vehicles, armored cars, and helicopters. Add up all the overtime pay for police, fire, ambulance, and the para military troops brought in. Add the economic cost of shutting down the 22nd largest city for a day… It's so big, I can't even guess. We'll have to wait for the number crunchers with receipts actually in their hands. But particularly with including the economic cost somewhere near a $billion, that means we spent a billion dollars to catch 2 people that were really caught by a) being run over by the other bomber, and b) a man stepping out for a smoke….
But we still, … cost ourselves a billion dollars….
Now. Texas. We had a combined 24,000 gallons of anhydrous ammonia and ammonium nitrate. It wasn't required to obtain a state air emissions permit because it was so old. In 2004 they were supposed to come up and get reauthorized by the Texas Commission on Environmental Quality. "They failed to do so."
Federal documents say the plant did not have required security and safety plans in place. the EPA fined the plant more than $2,000 in 2006 for failing to update a risk management plan. In response, the site's operators told the EPA that the plant posed no risk of fire or explosion. The worst case, plant officials said, would be a 10-minute release of ammonia gas that would kill or injure no one.
The EPA also found that West Fertilizer did not have a formal maintenance program and that its employee training records were poor. In addition, the plant was found in violation of key security measures by the U.S. Pipeline and Hazardous Materials Safety Administration. The agency discovered that the plant had planned to transport anhydrous ammonia without making or following a security plan. Last summer, regulators fined the plant $10,000, then settled for $5,250…. And now we find the fertilizer had 1350 times the legal amount of fertilizer material than it was allowed….
Was too much money spent by government leading up to the explosion? Or too little? Were we lulled by a litany from the Texas Republicans that companies could police themselves, and that we didn't need to spend any money on regulations and enforcing standards? Of course we were. It all started by that guy who once owned the Texas Rangers, who said he would "cut taxes"…
Since we cut taxes we have had multiple issues. And since that time when taxes first got cut, it is easy to see our successes all come about when we, the United States Government, spends money lavishly… When we cut back, we get nothing but trouble with a capital "T"….
So our success come when we tax and spend. Our failures come when we cut taxes and fire, close down, and destroy jobs.
There comes a time when profits get so high, that hiring new people bites into them. WE have reached that point. Corporate profits have never been as high as they are today. Yet we have 15 million underemployed. The hard way to fix it, is to force businesses to hire more people they don't want. The easy way is to tax some of that profit that certainly is not necessary for the businesses' survival… I mean corporations have lived on less since the beginning of time, then hire an inspector who has the authority to close a Texas fertilizer plant when it flagrantly defies the law.
America needs to accept this is how it has to be.
We need things done! Eight years of Bush's neglect plus the 2 years of having the Tea Party corral Congress, has severely damaged America! Putting America back to work, and boosting sales to corporations who benefit from all new economic activity, and using those workers to fix what is broken in America, is a win, win, win situation…..
So at what level should the assessed tax be? It appears that since incentive is a huge part of capitalization, the level of taxation needs to be below 50%. Simply put, if I invest $1 million and lose money on that, what was the point of the investment? Therefore, it appears that after a certain income level ($5 million?) taxes after all deductions should be around 40% of all income earned. If you have too much money, keeping 60% is certainly profitable. ;
Considering our current situation, a) a thriving economy, b) a current 40% tax rate on the top 1%, and c) still high unemployment, tweaking the tax law towards deductions, so that deductions only started after the first 40% got paid, might be the silver bullet that our nation needs, one which will cut the deficit, hire the unemployed, and use both to rebuild America.
We need more money, and we have to get it. Period. All future American successes depend upon it…
Conservatives in an attempt to stave off making their guns illegal, have put together a rather good bill.  One that treats guns like we treat cars….
The idea is simply that by making gun owners more financially responsible for the outcomes their firearms may or may not produce, would make them better citizens….
Here are the salients.
The insurance should follow the gun not the owner…
Insurance should continue to cover guns that are lost, stolen or diverted…
The insurance should be No-Fault….
There should be a means to find the insurer of a gun…
Just when I think Conservatives are toast, they come through in a clutch. Private control of weaponry can achieve the same results as government control, without flipping on the libertarian switch existing in many of our backwoods residents…..
The bill is HR 1369…
I'm not going to embarrass the pants off Jea Street by pointing him out… If you know him, or of him, you'll know whom I'm talking about.  If you don't, he could be anyone, sitting in the audience of your districts Board of Education Meeting…
But, Jea Street just did a very dumb thing.  He fires off a public letter calling for the firing of three Christina School Board members calling them super "obstructionists"…
Really.  Super obstructionists?  Is that like Superman?  Wouldn't it have been smarter to call them Spider obstructionists?  Like Spiderman?  Or Bat obstructionists?  Like Batman?  or Under obstructionists, "like little olde me,…….. Underdog".
Look, Jea Street!…. It's a frog…..   A    F-R-O-G?
This isn't a "new" or "confused" Jea Street. This is the Jea Street from decades ago hammered Red Clay and who so concerned the Red Clay Board that they had rent-a-cops attend board meetings. This is the Jea street who hammered everyone within earshot about achieving racial equality. This is the Jea Street who never opened his mouth when the shining lights of state and district politics (were any minorities of note involved in this?) went for and obtained Charter, Choice, and Neighborhood Schools. This is the Jea Street I always considered racist and have not seen any change in his position on that. This is the Jea Street who had to be aware of what was happening to Warner and all the kids there in recent years – and said nothing. This is the Jea Street who watched as Red Clay designed and implemented a racially divided district – and said nothing. So, the only conclusion I can draw from this is: What's in it for Jea Street? — Adam Smith, aka Batman.
Did the councilman really just invite any whack job in Delaware to seek out school board members and deal with them as if they were weapons of mass destruction? Line crossing?  (Translated: show up at your efffin board of education with an AR 15 and whack the m–fu–ers.)  Django  aka  Django.
I used to simply feel sorry for this guy until I saw him act in person worse than he acts with pen in hand at the GABMAAFWF govt School (not education) Choice event at Woodlawn Library a few months ago.  Now I have a tremendous and somewhat fearful distaste for his self serving rants and sanctimonious rage. His is the most dangerous of several common actions of the all too common race pimp class of citizens.  Peter Parker  aka Spiderman.
And to think some thought The Jea Street was the latest dance. It's the "Hustle" all over again. Clark Kent  aka  Superman.
This is the jea who watched high ranking 100K admins in RC and CSD help keep it quiet for years. some were paid directly by the districts, others had companies with contracts! it is disgusting at every level. What has happened in education in DE is comparable to the robbery the banks and defense contractors have done to the public.  Alfred…. (Butler to Adam Smith.)
(If you don't now know who jea street is, he is the little guy driving the tank in the video linked above…….)   Now, I don't know Jea Street or care to really, after the ringing endorsements his actions have resonated,  but since I have a hard time remembering faces, I use cartoons… In this case, Jea Street is  close to "J Street" which as most know, is right beside "K Street" in Washington DC.
This is fitting.  "J Street" (which I will call him/her for the rest of this highly educational and scientific article) is carrying water for the Lobbyists of Pure-Profit Management of Public Schools (PMS)…..  When "J Street" slips under the influence of PMS he gets wild and loose with facts.  He gets emotional;  PMS will do that to a person…..
This preposterous decision destines the resolution for failure and guarantees continuation of the District's modus operandi of ongoing discrimination that I have been complaining bout since Novermber 17, 2005…
(Note to Reader:  "J Street"  has forgotten with his temporary amnesia  the two African American superintendents who PRECEEDED Dr. Williams and were in place during the OCR fiasco…one of whom is Maryland's current State Superintendent of Education, Lillian Lowery.)  PMS does make you forget important things…..
I believe that this decision was race based in a futile attemp to keep Mr. Evans from continuing to speak up and speak out for African American children as he had effectively done for so many years….
(Note to Reader:  Mr. Evans had run for that position the previous election and had been thumped, repudiated, and badly beaten like a chump if I remember correctly, by a 10 to 1 margin.  Upon hearing that his opponent had resigned, Mr Evans made himself the only person available for that position.  The board felt that someone so rejected by parents of students in that district, could only do harm by being allowed to sit in that position for if he were allowed on as a voting member, it could set up court challenges in the future for everything the board did from that point onward..)  PMS  seems to have made "J Street" forgetful here as well.
In my view the District's apparent willingness to put $2.3 million in jeopardy is a breach of promise to the effected schools and teachers impacted by this decision.
(Note to Reader:  Across this nation, many districts are opting out of RTTT because it simply costs more to achieve, than the funds one is given.  Of all the districts in this state, Christina first recognized this, and in order not to be forced to spend far more than they get, they are negotiating with the Department of Education for leeway in using the funding in ways that wouldn't cost the district more to use the money.   Meaning it is actually cheaper, NOT to accept RTTT funding, and therefore NOT implement all the costly purchases required by RTTT,  This frees up money which can be used on things like educating children inside the inner city, something which has been put on hold, since RTTT began.)  This of course cannot be comprehended when one as PMS.
Apparently, "J Street" is being manipulated by "K Street" to intimidate the board of Christina.  "K Street" feels that refusing to buy products from only certain firms sanctioned by the state as official suppliers, and using that money to actually help children learn, instead of line their pockets, is an outrage.  Unfortunately.  For a rich man to scream… "I'm not wealthy enough!  Buy my 'effin' product" turns people off.   But that is no problem for them, as long as their neighbor "j street" will do it for them and …yes… blame it on race, even though those guilty, were all Afro-Americans…..
In case you missed it above…. "J Street" is the guy driving the tank..
Whatever your opinion may be of charters, there's no question that the District has failed to explain its inconsistent approach of allowing charter expansion without regard to expense or academic quality while insisting on draconian and widespread sacrifice among District schools. This despite the fact that many of the District schools targeted for closure outperform some of the charters that the SRC renewed and expanded last spring.
Is this a "Damn The Public" boondoggle in the making? Are we running roughshod over evidence, children, teachers, structures, reality, in order to promote Charter Schools?
When something like this usually happens, it is the result of someone being on the take.
The Charters countered with this…. "The closings are inevitable for a district that must manage within the framework of a harsh fiscal reality. Given this scenario, the good news is that not only are charters educating children at a fraction of the cost, but they in turn are able to channel more money to children remaining at district schools."
A student who leaves Philly schools for charters takes $10,170, leaving $5,879 with the district.
Philadelphia charters have more than 40,000 students on waiting lists. It is tragic that only a very small percentage of families ultimately "win" a seat. It is especially disheartening to turn away thousands of children and families seeking a quality education.
Recently I documented a comparison between 2005 and now, and illustrated that now there were only 950 fewer students (both public and charter) in Philadelphia less than the public school's seating capacity, and that half as many graduates today were as college prepared as were those back when public school supplied over 88% of Philadelphia's educational needs.
If using the criteria of judging education by how well it educates students, the Charter experiment has failed in Philadelphia.
We knew this but it  is now being published… and so it is in the news.
The world is getting warmer… and we can now predict our climate by looking at map at 300 miles south and guessing what our weather will be from that…
Just as plate tectonics and  Darwin's origin of the species were able to lay the groundwork of reason  for explaining puzzling observations, this simplifies what to expect from global warming rather startlingly.
Texas is now  what we alway thought of when we considered the weather of Mexico; Oklahoma is now West Texas; Kansas is now Oklahoma; Nebraska is now Kansas; South Dakota is now Nebraska, North Dakota is now South Dakota: Southern Manitoba is now North Dakota…..
If  West Texas had 3 days of rain, now Oklahoma is getting 3 days of rain;  If it snowed 12  times in South Dakota, it is now doing the same in North Dakota… and so on.
So, to predict our heat, rain, winters, etc, our guide would be North Carolina.  Longer growing seasons,  some winters with no snow, hot summers…
However due to Global warming, the East Coast has a caveat.  An anomaly so to speak  and actually some relief from the North Carolina summer heat we would normally expect….
With the unprecedented melting of the Arctic and Greenland icecaps dumping its excess into the Labrador Current, that cold water drops South hugging the East Coast shoreline all the way down to North Carolina's Outer Banks where it finally becomes neutralized…   Therefore even though we have hotter air masses, the colder ocean temperatures creates a buffer against Global warming off the entire northeastern US.
Europe, Japan, and Alaska all experience  the same mitigating effect, although with both Greenland and the Arctic Icecaps melting into the Labrador, the US East Coast gets a stronger volume of cold water.  Call it our icy shower effect….
Once melting stops and the currents dry up, we return to the North Carolina scenario of the twentieth century….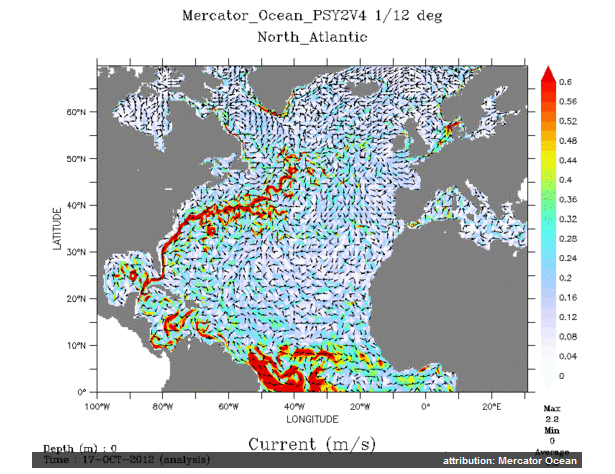 Chart Courtesy of NOAA
So, we in Delaware really get the best climate on the East Coast.    Warm winters, little or no snow, and cool breezy summers….. as well as a longer growing period, and… less dependence on fossil fuels for winter heating.
Gee, global warming isn't so bad for Delaware after all….  Oh, the rising seas?  There you go again… Why did you have to spoil the rosy picture I was painting?