Women… especially…. "Boo, hoo, hoo… All these years… sniff, sniff, I believed him, and he was lying to me… lying, lying to me, the damn bastard…."
Guys too. "She told me she was working late, I had no reason to doubt her. I believed her… Why not? So I get a call at 2 am and she asks me to pick her up at jail… Jail? Why? Are you alright? Hurt?… "No," says she, " I got busted for prostituting an undercover officer…."
Parents…. who go storming into a teachers classroom,…. "How come my kid has an F, you gave him zero for classwork, but you never gave him any assignments he says.!" "What's the kid's name?…. Oh, that kid hasn't showed up for class all year…."
Americans are the dupiest race of people on this planet…..
Oh, Gas is high because we are not drilling offshore…. DUPED
Oh, Global warming occurred when there were dinosaurs. What! they drove cars? DUPED
Oh, Republicans will grow private sector jobs, and pull us out of he recession. … DUPED? Not yet….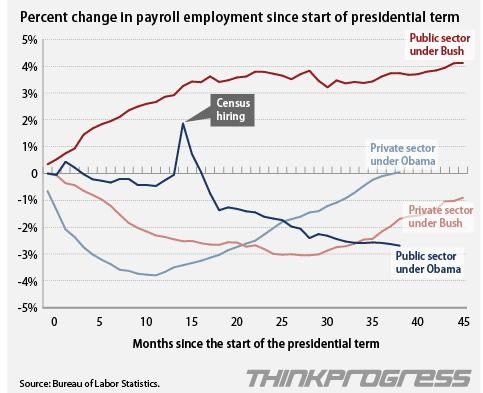 Chart courtesy of Think Progress
A tale of two parties… See the difference between private and public sector jobs…
Republicans say government is too big when they are out of power. When in power, they grow it like crazy to hide the fact that their private sector job policies do not work…..
Democrats, grow the hell out of private sector jobs… And because they don't have to hide their incompetence as do Republicans, they cut government jobs over their term… Reduce the deficit if you know what I mean…..
When a Republican says he will create a private sector job. it is a lie… Just like the housewife above.
When a Democrat speaks the same, it is probably true. Over time Democrats create twice as many private sector jobs as do Republicans…
Fact, not a lie….
So, what we have in today's economy, is Republicans who somehow took over the Congress, who have cut a Federal Jobs for every new job the private sector grows, then point to the total unemployment level… and scream… see? No improvement….
Sigh, if only we didn't have Republicans.. Zero. Not one. Nada, Let's look at the raw data above and see the possibilities that could occur?…. In the Bush era, the total unemployment level touted by Republicans stayed near 3%… that comprised a 4% growth in the public sector, and a negative growth of 1% in the private….
In Obama's term, we have increased from a negative four percent to flat in the private sector (a gain of 3%) … and the public sector has fallen below three percent. it's the public sector, that which is controlled by Republicans, which is what is keeping our economy in the pit toilet. Betchu, if Republicans had a Republican president, they would have kept the excess government employees, even hiring more as needed, and the unemployment level would be between 3 and 4% right now, instead of the *% it is… That is what would happen if they were in power. They are not. Now since they want to make the Democrat look bad, they gum up Congress so it can do nothing, and blame it on the President….
So obviously the natural response from Republicans will be… you're lying .. that's not true…
My answer? Show me facts; I'm not lying… Here are facts. Our side works. History proves it. It is called Bill Clinton Economics. Unlike Republican Vice Presidents: I don't have to lie…..